FEATURED POST
Toni Collete goes out in a blaze of alternate personalities
"United States of Tara: The Complete Third Season" (Paramount) also turns out to be the final season of the Showtime original series starring Toni Collette as a wife and mother and multiple personalities. The show itself never quite found its footing but it's finally heading in the right direction this season, as Tara goes to college, Tara's sister Charmaine (Rosemarie DeWitt) becomes a mother and her son Marshall (Kier Gilchrist) hits a crisis that leaves him flailing for any kind of support and finding none. Mom has been has been taken over by a psychopath of a new personality who takes pleasure in terrorizing everyone, even the other alters within Tara.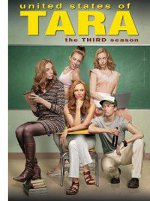 "I have it under control," is the mantra of both Tara and husband Max (the underappreciated John Corbett) as they try to hold it together, and of course nothing is under control. It's a season mired in denial, which borders on criminal neglect when Tara's newest guest host tries to murder her new doctor (season guest star Eddie Izzard as Tara's psychology professor, a man skeptical of the reality of dissociative identity disorder). Which means that this screwy comedy gets very dark indeed before the season ends and some very interesting family drama gets dredged up in the process. In particular, after being the rock holding everything down as the rest of the family flies out of orbit, the show lets Max unravel. But just for a moment.
Given that the season was completely in the can before Showtime decided to cancel the show, it's a pleasant surprise that the season finale ends with a satisfying sense of closure. It doesn't solve the problems but it affirms that this is indeed a family ready to face its problems head on.
12 episodes on two discs in a box set to two thinpak cases. Fans of the show will be disappointed, however, that it features no supplements, not even a simple series retrospective.