FEATURED POST
and the Dead start Walking
"The Walking Dead: The Complete First Season" (Anchor Bay) - Whether or not you agree it is the best new show of the 2010 season, "The Walking Dead" is certainly the critical favorite: glowing reviews, magazine covers, adulation from genre fans and TV elitists alike have propelled the first all-out zombie TV series into the pop culture lexicon. Read my review on Videodrone here.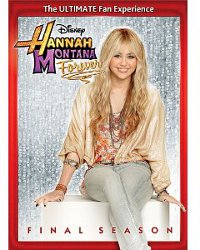 "Hannah Montana Forever: Final Season" (Disney)
After nearly a hundred episodes, Miley Cyrus leaves the Disney Channel sitcom that turned into a tween sensation. In the fourth and final season of the show about the double life of Miley Stewart, who dons a blond wig to become pop superstar Hannah Montana, she finally reveals her secret to the world and deals with the fall-out of having her previously normal invaded by fame. It's a whole bunch of goofy sitcom shenanigans and comic romantic complications that teenage girls love but the rest of us will find a little juvenile and, well, girlie. Emily Osment plays her best friend and real-life dad Billy Ray Cyrus is her TV dad, while Sheryl Crow, Cody Linley, Jay Leno and Dolly Parton are among the guest stars this season.
13 episodes (including a double-length special) on two discs in a 28-page keepcase "Memory Book" with a scrapbook of photos from the show. The set also includes an exclusive alternate ending to the series finale, a five-minute retrospective with clips from the auditions and a special farewell to the fans from the cast.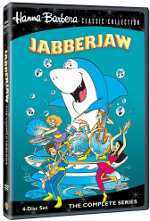 More classic "Who" rolling out from BBC Video: William Hartnell is The Doctor in "Doctor Who: The Ark" (story no. 23 in the show's chronology) and Tom Baker is The Doctor in "Doctor Who: The Seeds of Doom" (story no.85).
"Jabberjaw: The Complete Series" (Warner Archive), a seventies-era Saturday morning cartoon about an underwater rock and roll band/deep sea crime-fighting group with a talking Great White Shark drummer, is out in a four-disc set exclusively through the Warner Archive website.
"Noah's Castle: Complete Series" (VCI) is a 1980 science fiction series made for the British TV youth audience. Seven half-hour episodes on a single disc.