FEATURED POST
Plus Gamera's curtain call and women-in-prison tribute "Sugar Boxx"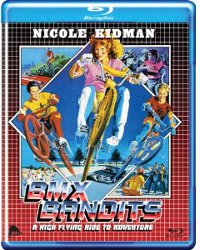 "BMX Bandits" (Severin)
"If we'd grown up in Australia, "BMX Bandits" would have been our "Goonies"." – Quentin Tarantino.
No surprise that this quote adorns the cover of Severin's lovingly-produced DVD and Blu-ray debut of this adolescent adventure comedy directed by Brian Trenchard-Smith, Australia's homegrown genre jockey (and a filmmaker championed by Tarantino) and it's appropriate. This is a lighthearted, lightweight lark about a trio of BMX-obsessed teens who stumble across a cache of illegal walkie-talkies (where they've been dropped off for a gang of bank robbers) and end up running (or rather, furiously pedaling and stunt-riding) from the gang and then turning the tables for the reward money. 16-year-old Nicole Kidman makes her feature debut as the plucky red-headed girl who team up with a pair of fun-loving best friends (Angelo D'Angelo as the good-looking kid and James Lugton as the goofy horror movie buff) to make money for their own BMX bikes and David Argue (later of "Razorback") and John Ley (one of the thugs in "The Road Warrior") are the comic thugs who provide the slapstick in the chases.
There's not much to the film and it's definitely for younger audiences, but Trenchard-Smith directs the BMX action with high energy and gets a lot of personality and camaraderie from the teen actors. Future Oscar-winner John Seale photographs it well and it is definitely out of the eighties, as the synthesizer score will attest. The DVD and Blu-ray releases feature commentary by director Brian Trenchard-Smith and the 40-minute "BMX Buddies" with the director, writers, producer and grown co-star James Lugton discussing the picture (Trenchard-Smith recalls how he expanded Kidman's role once he saw her "star power" on the screen and had his bad guys improv slapstick gags to up the comic quotient). Also features a clip of Nicole Kidman on the kids show "Talent Time" and the trailer.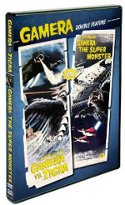 "Gamera vs. Zigra / Gamera: The Super Monster" (Shout! Factory) collects the final films in the original "Gamera" franchise on a double feature disc. The former sends the giant flying turtle to fight a sea monster and the latter is actually cobbled together from battle scenes taken from all the previous films, sort of a "best of" collection. Both are presented in new anamorphic widescreen editions with both original Japanese and English dub soundtracks and English subtitles.
"The Fernando Di Leo Crime Collection" (RaroVideo) - Fernando Di Leo was, in the estimation of genre-hound Quentin Tarantino, "the master" of the Italian gangster movie. "The Fernando Di Leo Collection" spotlights four of his signature films from the early seventies: "Caliber 9" (aka "Milano Caibro 9"), "The Italian Connection" (aka "La Mala Ordina"), "The Boss" (aka "Il Boss" and "Wipeout!") and "Rulers of the City" (aka "Il padrone della citta" and "Mr. Scarface"). See more on the films, which debut in the U.S. in their original Italian versions, on Parallax View here.
"Sharktopus" (Anchor Bay) - Absurdly-titled, cheaply produced and executed with tongue firmly in cheek (because it's just too hard to take it seriously), this made-for-cable film is another in the "Roger Corman Presents" line of B-movie creature features made for the SyFy Channel. Eric Roberts is the token name actor on hard times recruited to give the film a pose of legitimacy and he hams it up with a half smirk that at least suggests he's having a good time. Read on at Videodrone here.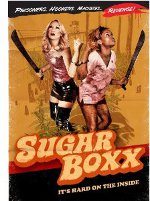 "Sugar Boxx" (Entertainment One), director Cody Jarrett's tribute to seventies women-in-prison drive-in movies, features appearances by cult actors Kitten Natividad, Tura Satana and women-in-prison movie auteur Jack Hill.
"Interplanetary" (Shock-O-Rama) is an indie horror about an alien creature attacking the human workers on an isolated outpost on Mars.
"Salvador Allende" (Icarus) is Chilean director Patricio Guzman's documentary portrait of the controversial Chilean president killed in the 1973 military coup.
"A Boy Named Charlie Brown / Snoopy, Come Home: Peanuts Double Feature" (Paramount) collects the first two previously-released "Peanuts" animated features on a double-feature disc.