FEATURED POST
Plus 'Reel Injun,' 'Becoming Chaz' and 'Sons of Perdition'
By 
SeanAx
 Nov 29, 2011 10:24AM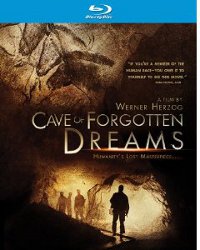 It didn't make the final cut for the Oscar documentary shortlist but Werner Herzog's "Cave of Forgotten Dreams" (MPI) is a beautiful and breathtaking work of non-fiction, one of the best of the year, and the New York Film Critics Circle made if official today: they named it the Best Non-Fiction Film of 2011. It debuts today on DVD, Blu-ray and Blu-ray 3D.

The film is built around an exploration of the ancient Chauvet Cave, home to the oldest human artwork known to exist. Yes, we're talking cave paintings which survived because the cave was sealed off and preserved for centuries upon centuries. It's the cavern that time forgot and only a handful of people are allowed inside to maintain the conditions that have preserved these artifacts, some as old as 32,000 years. Herzog petitioned to be one of the few and bring a camera in to share the visions with the rest of the world.
Restricted to a thin catwalk through a cave deep inside a mountain, a skeleton crew and minimal light, he does just that: capture the space, the texture, the quality of color of these ghost-like paintings, like shadows of the past captured on the cave walls. He communicates a sense of awe and wonder without any contrived dramatics and between visits to the paintings he profiles the scientists, archeologists, historians and technicians who have also been granted access, and as usual finds great stories in these individuals.
The film was originally shot and presented in theaters in 3D (and with this one film justified the technology) and it is available on Blu-ray 3D (which requires 3D compatible players and monitors) as well as standard DVD and Blu-ray editions. All editions feature the 39-minute documentary short "Ode to the Dawn of Man," which profiles the creation of the score. More reviews here. See the trailer below, after the jump.

"Reel Injun" (Kino Lorber) is a survey of how native Americans have been portrayed in the movies and on television, from the silent era through the golden age of westerns to the new Native independent cinema of "Smoke Signals" and "The Fast Runner." The Canadian documentary from Cree filmmaker Neil Diamond (not the singer) is "Absorbing and amusing for as long as it looks back at those Hollywood westerns, recounting their sins against American Indians," writes Mike Hale in The New York Times. Adam Beach, Russell Means, John Trudell and filmmakers Chris Eyre, Jim Jarmusch and Clint Eastwood are among the talking heads interviewed between the clips.
Also new this week are two films from the OWN Documentary Club: the Emmy nominated "Becoming Chaz" (Virgil), a profile of the physical transformation of Chaz Bono through sex reassignment surgery, and "Sons of Perdition" (Virgil), a portrait of the lives of three boys after their escape from the oldest polygamist community in the United States.
For more releases, see Hot Tips and Top Picks: DVDs and Blu-rays for November 29