FEATURED POST
Terry Gilliam's final cut of his dark, dense science fiction fantasy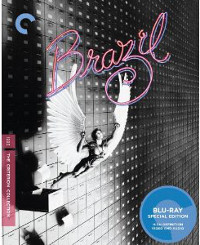 Terry Gilliam's "Brazil" (Criterion), a dark, dense science fiction fantasy, is like "1984" rewritten by Monty Python, an absurdist nightmare of Kafka-esque dimensions.
Jonathan Pryce is the dreamer trapped as a worker bee in the bureaucratic maze as deadly as it is indifferent, until he falls in love with a woman (Kim Greist) he thinks may belong to the terrorist underground. The road to true love involves lunches with his plastic surgery-addicted mother (Katherine Helmond), bureaucratic dueling with an air condition repairman (Bob Hoskins), and cozy relations with the friendly neighborhood interrogator (Michael Palin). Fittingly the film took its own circuitous route to release. Universal stalled the release and even reedited the film, until Gilliam screened the film himself for the Los Angeles film critics, who championed the film and lavished it with end of the year awards.
Universal released the 132 minute theatrical cut of the film, the same one that played theaters in the U.S., on Blu-ray last year in a bare-bones edition. But well over a decade ago, Criterion released Gilliam's definitive version of the film, culled from materials in numerous different release cuts, in a deluxe three-disc DVD set packed with supplements. That edition now debuts in a newly-mastered, Director Approved Blu-ray set.
The two-disc set features commentary by Gilliam on the final cut, the thirty-minute "What Is Brazil?, an on-set documentary by Rob Hedden, and "The Battle of Brazil: A Video History," an original hour-long documentary that chronicles the epic battle Gilliam waged with Universal Studio executives to preserve his vision, created by author and film writer Jack Mathews for Criterion's original release of the film on disc, along with shorter featurettes on the screenplay (featuring screenwriters Gilliam, Charles McKeown, and Tom Stoppard), the production design, the costume design, the special effects, and the score, and Gilliam's storyboards for unfilmed dream sequences.
The most inspired supplement, however, is the "Love Conquers All" version, the bastardized 94-minute cut that Universal commissioned to tone down the bleak satire, complete with a happy ending. Haphazardly edited and nearly incomprehensible, with essential plot details deleted with most of Gilliam's more inspired satirical touches and visual flourishes, this version never saw the light of theaters, but it did play on TV. One wonders what an unsuspecting channel surfer must have made of this bizarre mess. Think of it as the ultimate anti-director's cut: a nightmarish peek into what we might have been stuck with had the studio won the battle of "Brazil." Now it stands as Gilliam's last laugh.
Also features a booklet with an essay by film critic David Sterritt.


For more releases, see Hot Tips and Top Picks: DVDs, Blu-rays and streaming video for week of December 4, 2012