FEATURED POST
Robert Downey Jr. is back as the world's greatest detective as cheeky action hero
By 
SeanAx
 Jun 12, 2012 11:14AM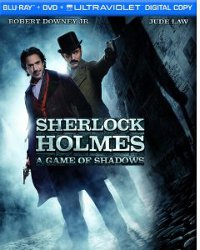 "Sherlock Holmes: A Game of Shadows" (Warner) is the energized sequel to Guy Ritchie's reincarnation of the world's greatest detective as a smart-aleck action movie hero played with cheeky playfulness by Robert Downey Jr.
There's a strange leveling that home video provides by putting Guy Ritchie's big-budget, action-crammed, ADD-plagued Sherlock Holmes features next to the updated BBC TV "Sherlock" features, produced with smaller budgets and smarter scripts (reviewed on Videodrone here). They couldn't be more different, and yet they offer two different approaches to the literary detective who seems to get a definitive revival every generation or so. For fans of the original fiction, the Benedict Cumberbatch Holmes offers an intelligent update of Doyle's stories. And for the Hollywood culture of bigger, faster, more, there is this revision with Holmes as a rather whimsical prankster.
In this very busy story, Holmes and his brother Mycroft (Stephen Fry) hijack the honeymoon of Watson (Jude Law) and his bride (Kelly Reilly) to save them from Professor Moriarty (Jared Harris), and then head to the continent with a gypsy fortune teller (Noomi Rapace) targeted by Moriarty's assassins to take on the master criminal's latest diabolical scheme. Action ramping, silly costumes, and general mayhem ensues.
"[W]e are treated to the filmmakers' newfangled conception of Holmes' famed deductive method: a kind of quick-cutting ESP thing with sepia-toned images of violence combined with Holmes' voiceover reasoning things through and coming to a decision on how he's going to handle the variables of the threat to come," writes MSN film critic Glenn Kenny. "Nifty, if you like that sort of thing. And if you like that sort of thing, this movie has plenty of it, from multi-big-gunned shoot-outs on trains going over high bridges to multi-multi-bigger-g​unned shootouts at munitions plants and more."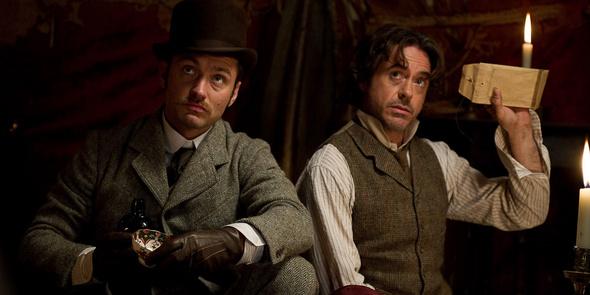 So, yes, it's not exactly according to Doyle, but it does have Downey and it has one thing in common with the new BBC Holmes revision: a smart and capable Watson who holds his own against the eccentric genius.
On Blu-ray and DVD, with the "Focus Points" featurettes "Sherlock Holmes and Dr. Watson: A Perfect Chemistry," "Moriarty's Master Plan Unleashed," and "Holmesavision on Steroids," and an Ultraviolet digital copy, for download and instant streaming.
The Blu-ray features the exclusive Maximum Movie Mode, Warner's version of the interactive audio-video track, with host Robert Downey Jr. walking into the screen to talk about the film and introduce detours into short production featurettes, while picture-in-picture interviews and behind-the-scenes clips play through the rest of the film. Also available through digital download and On Demand.
See the trailer below, after the jump.
For more releases, see Hot Tips and Top Picks: DVDs, Blu-rays and streaming video for June 12