FEATURED POST
Claire Denis' brilliant portrait of the end of colonialism in West Africa
By 
SeanAx
 Apr 11, 2011 10:32PM
"
White Material
" (Criterion)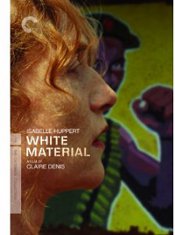 One of the best films of 2010, Claire Denis's "White Material" drops us into the midst of an unnamed West African country where the French colonial government is pulling out, rebel soldiers are moving in and one woman (Isabelle Huppert)—French by ancestry, African by birth—tries to hold on to her family coffee plantation. Maddeningly single-minded, risking not just her life but her family and the day workers she rounds up to help harvest the crop when her employees run off, she refuses to acknowledge the danger and hides the truth of the situation from everyone else.
The experience is mesmerizing and discomforting. Denis never identifies the country, the war, even the era, and she keeps us in a state of anxiety, lost and unmoored as the world shifts around with the force of violence. Politics and power are at the root of everything to be sure, and as it all unravels in the civil war, the tensions and resentments of race, class and wealth are exposed raw. Yet even vengeance is less terrifying than the simple drive for power and dominance in an atmosphere of violence unleashed.
The supplements are small compared to many Criterion editions but they are substantial. There are excellent new video interviews with director Claire Denis (24 minutes) and actors Isabelle Huppert and Isaach de Bankolé (each about 13 minutes, the latter in English), each conducted specifically for this release, and the 12-minute documentary "Ecrans Noirs Film Festival, 2010," which Denis shot for the film's premiere in Cameroon (where the film was shot). Also features one deleted scene and a trailer, plus a 24-page booklet with a new essay by critic Amy Taubin.