FEATURED POST
Plus 'Love Exposure' and Colin Quinn on Broadway
By 
SeanAx
 Dec 21, 2011 11:16AM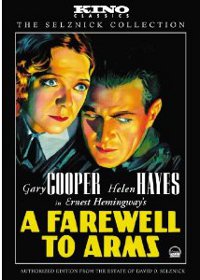 Gary Cooper is the young ambulance in WWI and Helen Hayes a British nurse in the 1932 "A Farewell to Arms" (Kino), the first film based on Ernest Hemingway's novel and still the most sophisticated. Made in the era before enforcement of the production code, the film, directed by Frank Borzage, offers a far more adult portrait of the love affair on the battlefield than the 1957 version.

Coop is almost impossibly young and beautiful as the stalwart soldier resigned to the grind of war and Helen Hayes practically glows as Catherine, an angel of a nurse who is nonetheless down to earth when it comes to sex. Borzage's romanticism would seem a poor match for Hemingway's stoicism but he elevates their love to a holt purity even as it takes place outside the official bounds of the church and social acceptance. A priest performs a benediction over their union, which in this film passes for marriage; the Catholic League wasn't fooled and condemned the film. Hemingway didn't much like it much, either, but Borzage's vision just looks better with time. It's gorgeous (it won the Academy Award for Best Cinematography), even as the choppiness suggests a rather violent treatment by the studio. But my, it glows.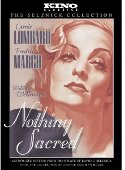 "Nothing Sacred" (Kino) was born when David Selznick hired Ben Hecht to pen a fast paced newspaper comedy to rival his own play "The Front Page." Perhaps he didn't top it, but the smart, cynical screwball comedy gave Carole Lombard one of her most memorable roles: a sweetly sexy small-town girl who has been misdiagnosed with radium poisoning and keeps up the pretense that she's dying when she's offered a free trip the New York. Director William Wellman is at his best sparring with his romantic duo (Fredric March plays the opportunistic newspaperman who falls for Lombard) and juggling the barbed banter, but he sometimes slips in the pacing.
Both of these films have been long available in inferior public-domain DVD editions. Kino remasters both films for DVD and Blu-ray debut from original nitrate 35mm prints preserved by George Eastman House.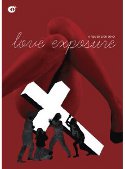 "Love Exposure" (Olive), a four-hour drama of youth culture in Japan from director Sion Sono, follows the odyssey of a good kid (Takahiro Nishijima) from a Catholic family who turns to upskirt photography to commit sins big enough to impress his father and falls in love with a man-hating martial arts whiz (Hikari Mitsushima). "This intricately plotted Japanese epic has so many twists and turns - not to mention bizarre characters with even more bizarre backstories - that the time will fly by, writes San Francisco Chronicle film critic David Lewis. "As the old cliche goes, you will not have another moviegoing experience quite like this one all year." In Japanese with English subtitles.
Originally shot for HBO, "Colin Quinn: Long Story Short" (VSC) presents Colin Quinn's one man show, directed for Broadway by Jerry Seinfeld. On DVD and Blu-ray, with commentary by Colin Quinn and Jerry Seinfeld, behind-the-scenes footage and a press conference.
For more releases, see Hot Tips and Top Picks: DVDs and Blu-rays for December 20