FEATURED POST
Plus 'The Cool Ones' and the crazy 'Lisztomania' of Ken Russell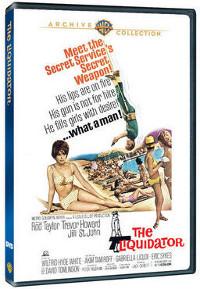 I've got a fondness of James Bond riffs from the sixties, knock-offs and spoofs both, so I have an affection for "The Liquidator" (Warner Archive), starring Rod Taylor as Boysie Oakes, a would-be military wash-out who stumbles into heroism and is drafted by British Intelligence to be their house assassin. The lifestyle suits Boysie -- money, girls, a groovy London bachelor pad, and all the accessories a man of artificial means could want -- except for the pesky assignments. So he outsources his jobs to a professional and pockets the balance. At least until things get complicated.
The 1965 production is based on a novel by John Gardner, the first in a series Gardner himself described as "a complete piss-take of J. Bond," and has a fun cast, including Trevor Howard as the film's pro-active answer to M and Akim Tamiroff as the hearty Bond-ish villain. And give it credit for anticipating a pair of Bond girls: Jill St. John, who plays Boysie's main squeeze (she went on to play Tiffany Case in "Diamonds Are Forever") and Gabriella Licudi (of the 1967 pseudo-Bond spoof "Casino Royale"). But legendary cinematographer turned middling director Jack Cardiff is a bad fit for this spy parody, exhibiting little innate humor and failing to reel in Taylor's broad playing. Howard fares significantly better as career agent who finds loves his work (even when it's all about putting hits out on his own traitorous agents) and David Tomlinson brings a disarming, oblivious chipperness to a fastidiously professional operative named Quadrant.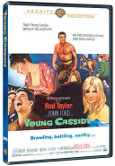 It came out the same year as "Young Cassidy" (Warner Archive), another Cardiff and Taylor collaboration, this one starring the strapping Australian Taylor as famed Irish playwright Sean O'Casey, who digs ditches by day, trains for the Irish rebellion by night, and writes in between. The film was begun by John Ford and even carries the brand "A John Ford Film," but an illness early in the shoot forced him to drop out (only about ten minutes of Ford's footage made it into the film) and Cardiff stepped in to complete the film and take director credit. Julie Christie co-stars as his first love, Maggie Smith (early in her career) as a supportive bookstore owner, and Michael Redgrave as W.B. Yeats.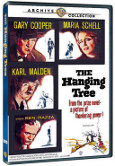 "The Hanging Tree" (Warner Archive), a western set in Montana gold camp in the 1870s, stars Gary Cooper (in one of his final big screen roles) as a middle-aged doctor who stakes his practice in the busy boom town and Maria Schell as an immigrant woman he nurses back to health and stakes to a claim but rebuffs romantically. Director Delmer Daves directed a number of notable westerns ("Broken Arrow," "3:10 to Yuma") and melodramas ("The Red House," "A Summer Place") and this frontier piece combines the two with a story of brutal men and vicious gossips preying upon both of these newcomers. Glenn Erickson reviews the disc for DVD Savant at DVD Talk: "The film's ending is sublime, almost Biblical in its purity. What will redeem a man who no longer believes in love or trust? Cooper and Schell make us believe one of the best-earned romantic finishes in the era of the classic Big-Sky '50s western."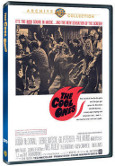 "The Cool Ones" (Warner Archive) is a rock and roll from the go-go culture of 1967 Los Angeles, starring Roddy McDowall as a music promoter trying to launch his singing duo (Debbie Watson and Gil Petserson) into the pop charts. Glenn Campbell, The Leaves, and the infamous novelty act Mrs. Miller are among the music attractions. Gene Nelson (and old TV hand) directs and Phil Harris co-stars in this campy rock relic.
"Lisztomania" (Warner Archive), Ken Russell's eccentric portrait of Franz Liszt (Roger Daltrey) as a 17th century rock star, reimagines the classic music world of 1840 as a culture of music celebrity, obsessive groupies, and excess (both in the lives of the stars and the over-the-top direction and design). Daltrey, of course, was the lead singer of The Who and Ringo Starr and Rick Wakeman (keyboard virtuoso of Yes) co-star, with Wakeman serving as music director. The Warner Archive previously released Russell's "Savage Messiah" and "The Boy Friend," while the MGM Limited Edition Collection put out "Valentino."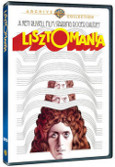 Available exclusively from Warner Archive:
More MOD reviews at Videodrone here
MOD stands for "Manufacture on Demand" and represents a recent development in the DVD market, where slipping sales have slowed the release of classic, special interest and catalogue releases. These are DVD-R releases, no-frills discs from studio masters, ordered online and "burned" individually with every order. You can read a general introduction to the format and the model on my profile of the Warner Archive Collection on Parallax View here and on the MGM Limited Edition Collection on Videodrone here.
For more releases, see Hot Tips and Top Picks: DVDs, Blu-rays and streaming video for week of September 11