FEATURED POST
Frank Miller's take on Batman's early years is adapted to the small screen - see a clip here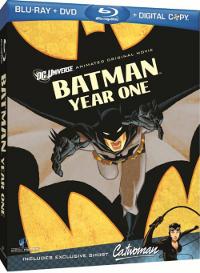 DC comics may be stumbling over their big screen incarnations of their iconic comic book superheroes but their far more modestly mounted the DC Universe Original Animated Movies are surprisingly good, especially given the limitations of their resources. These budget-minded direct-to-DVD films translate graphic novels and memorable comic-book runs into animated incarnations efficiently, at times stylishly and generally true to their source material.
"Batman: Year One" (Warner) is to date the best. It's also based on one of the best "Batman" stories of the past twenty years: Frank Miller's revision of the early days of Batman and Jim Gordon (before he became police commissioner), which was also a major influence on Christopher Nolan's live action "Batman" movies.

See a clip below, after the jump

Animation aside, this isn't a Batman cartoon. Like the comic, the story is told in slivers of action marked by the passing dates of the calendar and framed by the diary-like voice-overs of the parallel protagonists. Emmy winner Bryan Cranston (of "Breaking Bad") voices Gordon, the lone honest cop on the thoroughly corrupt Gotham City police force, and brings a world-weary, conflicted quality to the man risking not just his career but his family to follow his moral compass, which nonetheless spins askew under the pressure. Ben McKenzie, however, tries too hard to give Bruce Wayne/Batman, the fledgling hero learning his trade on the streets, a sense of gravitas through a pose of stoicism and ends up simply flat and one-dimensional. Eliza Dushku ("Dollhouse") comes in as colorful support as Selena Kyle, aka Catwoman, born out of the same struggle out of the Gotham cesspool.
For a story constructed out of choppy slices, this is probably the most unified of the DC animated features. The stripped-down art and composition suggests the graphic quality of David Mazzucheli's original art (though without the rich texture) and honors the parallel storytelling of the original work. It preserves the diary-like structure to build, piece by piece, a portrait of two heroes (and one aspiring villain) from revealing moments. While it never tips in to R-territory, these PG-13 productions are for the same audiences as Miller's graphic novels are. This is not the Cartoon Network.