FEATURED POST
The acclaimed actor makes his film directorial debut with this Shakespeare adaptation
By 
SeanAx
 May 29, 2012 10:00AM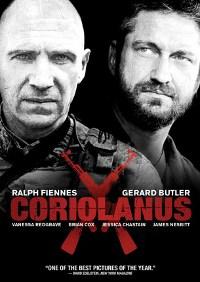 In "Coriolanus" (Anchor Bay), Ralph Fiennes returns to a role and an interpretation of the Shakespeare play he debuted on stage more than ten years before and adapts it to the big screen for his feature film directorial debut. Set in modern dress in a contemporary Rome of civil unrest, Fiennes' General Corilanus is the good soldier banished from his city when he stands against the corruption of his own leaders and returns in an alliance with his former enemy (Gerard Butler).
"Fiennes' reading underscores the soul-killing compromises demanded of democratic leaders, especially during times of economic turmoil; the power of the media to yo-yo public opinion; and the eternal tension between exceptional citizen and democracy's common men," praises MSN film critic Kat Murphy.
"Deftly orchestrating bloody action sequences ("Hurt Locker" cinematographer Barry Ackroyd is on board), the dangerous dynamics of fickle crowds and scenes of lacerating intimacy, Fiennes drives "Coriolanus" with a strong directorial hand, his style as single-minded -- and arguably, arrogant -- as that of the character. The play's been smartly streamlined by John Logan, and Fiennes' cast speaks Shakespeare's dialogue so naturally, the 17th-century poetry never jars with the "now" in which it's spoken." Vanessa Redgrave, Jessica Chastain, Brian Cox, and James Nesbitt co-star.
On Blu-ray+DVD Combo Pack and DVD, with commentary by director / actor Ralph Fiennes and the five-minute promotional featurette "The Making of Coriolanus." Also available at Redbox kiosks and On Demand.
Click on "More" below to see the trailer.
For more releases, see Hot Tips and Top Picks: DVDs, Blu-rays and streaming video for May 29