FEATURED POST
The man behind 'The Iron Giant' and 'Ratatouille' talks about animating Tom Cruise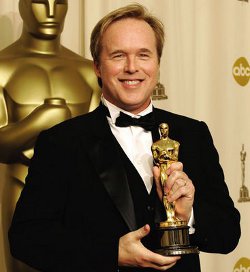 "Mission: Impossible – Ghost Protocol" (Paramount) is fun. It's that simple. The fourth film in the high-tech super spy series finds Tom Cruise's Agent Ethan Hunt a little older  and a little more mortal, scrambling to put together a rogue mission off the grid with a makeshift team, unreliable equipment, and no tech support. The set pieces are spectacular and the ingenious locations are like nothing we've seen in spy movies before, but a lot of the film's success can be attributed to the director: Oscar-winner animation director Brad Bird, making his live action debut.
See an exclusive clip on the stunts from the Blu-ray below, after the jump.
Cruise showed a lot of faith in trusting a first-time live-action filmmaker with his blockbuster franchise and Bird came through with a clever, inventive, high-energy trip. While he had never directed a film like this, Bird was no stranger to big, complicated productions thanks to his days at Pixar, and more importantly, Bird had proved himself one of the best storytellers around, no matter the medium.
To mark the release of "Mission: Impossible – Ghost Protocol" on Blu-ray and DVD, Brad Bird took the time for a few brief phone interviews. Very brief, it turned out, for a filmmaker who has plenty to say about making films. As usual, we began by asking him what he's been watching.
What are you watching?
The last one I saw was actually a movie that I've seen several times before but I love it, which is "The Red Shoes," which is just a great, weird, fantastic movie. It came out on Criterion Blu-ray fairly recently and I just showed it to my sons, who had never seen it before. They've been prompting me to show them movies that I think are great, so every once in a while I'll get them in there and I'll show them "Yojimbo" or something that they would not normally see and they are loving it.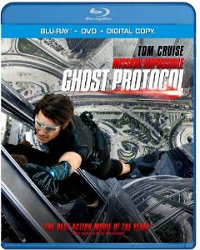 How old are they?
One is 19 and one is 17. Over time they've been trained that black and white can be cool and silent movies can be cool. It's all right to read subtitles and hear a language that you don't understand. My oldest boy, Michael, had never seen "Citizen Kane," and all these references in the shows they were watching, they thought these shows were the originators. I was going, No, that's from a movie they hadn't seen. Now I'm showing them all those movies.
It must be fun to share the movies of your life with your kids.
Kids view music in a very open-minded way because the pool they can dip into is so wide. They'll listen to something from Wilco and then they'll have something from The Rolling Stones in the sixties and then they'll listen to a Nat King Cole thing from the fifties, and it's all contemporary to them because it's all in this big soup that's always available, 24 hours a day. I'm trying to get them to look at movies in the same way. That it doesn't have to be made in the past five years to be cool, it can be eighty years old to be cool.
As an animation director, your involvement begins at the story level. When did you get involved in the process of developing "Mission: Impossible."
J.J. and Tom had been working with the writers, Josh Appelbaum and André Nemec, for almost a year on this script but the script was in happy flux when I showed up, meaning that I asked to see a script and J.J. kept dodging me and then finally I said, "Look, if I'm going to do this, I gotta see a script, " and he said, "Sure, I'll show you a script. Which one do you want to see? I have fifteen scripts and we just keep rewriting it and redoing it and throwing new ideas in there." He said, "It's probably better if I just pitch the movie and then we talk about set pieces and we can talk about where it's going because it's in constant flux." So I got sold the overarching idea of the story that Ethan Hunt is thrust together with a team, rather than a team he picks, and then that team is isolated. They had the ideas for the set pieces in but other than that, it was up for grabs, and some of the set pieces, like the car park thing at the end, they literally had a photo of a car park, a really unusual car park in, I think it was Germany, and they said, "He chases the bad guy and they have a fight in a car park." And that's literally what I had, so I got to really shape, shot by shot, what that car park would be: First they do this and then they kick the case under the car and then they do this. I got to basically riff on that very basic idea.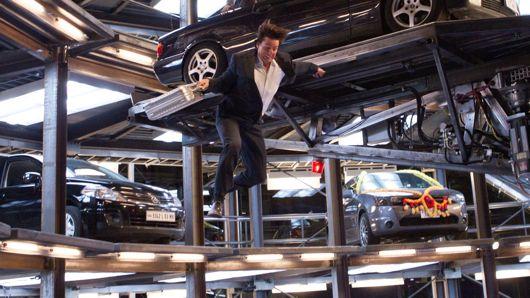 Were you able to contribute to shape and direction of the script?
J.J. said in an early meeting, "Are there any things that you have always wanted to see in a spy film and you've never seen them?" That's the kind of question that any filmmaker wants to be asked by a producer. It's wide open then. One thing is I wanted the equipment to be unreliable. Another thing was I like the idea of having a chase scene in a sandstorm. I got to add a number of things and I could shape how they went down, so it was a very wide open thing. When you usually think of a third sequel to a movie, it's kind of like it has to be set and it feels almost like a burden to live up to expectations, but I think the fun way to approach it is to say, used those expectations as fodder to play with them, set the audience up to think they're going to get x and then give them y. As long as you're doing it in a way that's fun and consistent with the characters and you don't disrespect the tent that you're under, I think there's a lot of elbow room for you to have fun. And that was definitely the attitude that we had.
This Ethan Hunt gets banged up a lot more than previous film incarnations.
That was something that I always liked about the old James Bond movies and "Raiders of the Lost Ark." It's not that Indiana Jones is without fear. He has fear, but he goes ahead anyway, and by the end of the Indiana Jones films, especially "Raiders," he's gotten the crap beaten out of him, and that to me was always more heroic than somebody who just laughs in the face of danger. So yeah, Tom was completely in to it. 
See a clip of Tom Cruise performing his own stunts, from the Blu-ray supplements, below, after the jump.
For more releases, see Hot Tips and Top Picks: DVDs, Blu-rays and streaming video for April 17