FEATURED POST
Plus two by Jess Franco and Lina Romay, a Robert Conrad double feature, and more classics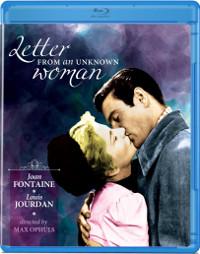 "Letter From an Unknown Woman" (Olive) was the second Hollywood film by European émigré Max Ophuls (who was credited as Opuls on his American movies), but his first American masterpiece, and he invests this exquisitely stylish romantic melodrama (based on a novel by Stefan Zweig) with his continental sensibility.
"By the time you read this letter, I may be dead," reads aging bon vivant Louis Jordan from a letter found in his tiny hotel room. Hair tousled and tux tired from yet another night of meaningless flirtation, he's startled by these opening lines and suspends his preparations to flee a duel to read the history of a love affair that he can't remember. For the rest of the film we're transported to the life of Joan Fontaine's awkward young Viennese woman, hopelessly enthralled by the dashing pianist from adolescence and momentarily his lover, the emotional pinnacle of her life but for the philandering rogue simply another fling in a blur of women passing through his bedroom.
Fontaine delivers one of the best performances of her career, vulnerable and yearning without lapsing into sentimentality and ultimately showing a hidden strength as she risks all for one more moment with the love of her life. Jordan is genial and callow, an empty figure faced with the meaningless of his life and shamed with self discovery. Meanwhile Ophuls' endlessly moving camera tracks, cranes, and circles around the characters while maintaining a measured distance, offering a privileged view of intimacy that captures both her life-defining rapture and his momentary engagement. It's a sensibility more European than American, right down the empty gesture that concludes this sad melodrama, but it's also a transition to making films in the American vernacular.
Ophuls only made four films in America. This is the first to make its long-awaited stateside debut on Blu-ray and DVD. No supplements.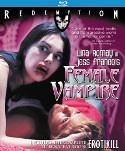 Jess Franco's "Female Vampire" (Kino) is the director's first collaboration with Lina Romay, the woman who became his muse. The 1973 erotic horror is not Franco's best film but she makes a stunning lead: pouty lips in a determined frown, enigmatic yet sensitive eyes, and the poise to take command of every scene. She's also mute and naked through most of the film and sucks her victims dry through oral sex: no neck biting here. Features two versions of the film – the complete 100-minute erotic version (with French and English soundtracks) and the shorter horror version titled "Erotikill." Also features the documentary "Destiny in Soft Focus" and the tribute "Words for Lina" from co-star Jean-Pierre Bouyxou.
Also new this week is Franco's 1975 "Exorcism" (Kino) with Romay and Lynn Monteil, also featuring the extended erotic version and the shorter horror cut "Demoniac." Both on Blu-ray and DVD.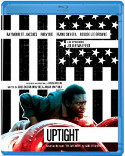 Jules Dassin directs "Uptight" (Olive), the 1968 remake of "The Informer" set in the culture of black militants after the assassination of Martin Luther King, with Raymond St. Jacques, Ruby Dee, Roscoe Lee Browne, and Julian Mayfield in the Victor McLaglen role. Blu-ray and DVD.
"Three Secrets" (Olive), directed by Robert Wise, is a 1950 melodrama of three women (Eleanor Parker, Patricia Neal, and Ruth Roman) awaiting news that could reveal hidden pasts. "Slender Thread" (Olive), a drama of suicide and outreach with Sidney Poitier and Anne Bancroft, is the feature film debut of director Sydney Pollack, and "The Sterile Cuckoo" (Olive), with Liza Minelli, is Alan J. Pakula's directorial debut. All Blu-ray and DVD.
"Sudden Death / Live a Little, Steal A Lot" (Inception) is a double feature of seventies films starring Robert Conrad and Don Stroud. The 1975 "Live a Little, Steal a Lot," a jewel heist picture co-starring Burt Young and Donna Mills, was originally released as "Murph the Surf," while "Sudden Death" (1977) is revenge drama that sends Conrad to the Philippines.
Diane Cilento is "The Angel Who Pawned Her Harp" (VCI) in the 1954 British fantasy while the 1947 "Bush Christmas" (VCI) sends five kids into the Australian outback to search for a stolen horse. Both B&W and DVD only.
For more releases, see Hot Tips and Top Picks: DVDs, Blu-rays and streaming video for week of October 16