FEATURED POST
A prime collection of lesser-known films that deserve to be better known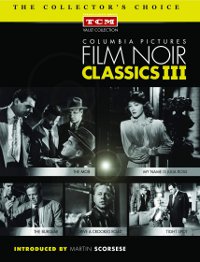 "Columbia Pictures Film Noir Classics Volume III" (TCM Vault Collection), a collaboration between Sony Picture and Martin Scorsese's The Film Foundation, uses the term "classic" loosely – the five films in this collection are not the celebrated stand-outs of the genre – but that said, this box contains some minor gems polished out of low budget productions.
The earliest of the film is "My Name Is Julia Ross" (1945), what you might call a B+ movie: it was produced out of Columbia Studio's B-movie unit, but with a slightly more generous budget and shooting schedule and better actors than the usual B product. The "Gaslight"-like script is more gothic than noir but Joseph H. Lewis made the assignment a showcase of his talent and creating such a moody atmosphere and dramatic tension that you might not notice the flimsiness of the script. No matter, Lewis creates a marvelous gothic noir shrouded in shadows and an impressive showpiece that looks forward to the visual delirium of his masterpiece "Gun Crazy."
"The Mob" (1951) is more bare-knuckle noir, a gangster picture with Broderick Crawford as an undercover cop taking his place on the docks to infiltrate the mob muscling its way into the unions. Crawford is engaging and compelling and, at times, quite funny as the veteran lawman playing the tough-guy dockworker, and the humor laced through William Bowers' snappy script balances the violence behind every scene.
Mickey Rooney is superb as the small-time race driver coerced into becoming a getaway driver in "Drive A Crooked Road" (1954), a daylight noir from director Richard Quine and screenwriter Blake Edwards. This is fifties crime meets swinging beach culture, a film noir that looks forward to the sixties in its sleek style and sunlit austerity, and in some ways anticipates the plot of Don Siegel's 1964 version of "The Killers."
"Tight Spot" (1955) stars Edward G. Robinson as a DA and Ginger Rogers as a tough gangster girl in protective custody before a trial. It lacks the grit and drive of his best films  but Brian Keith is superb as a young cop who gets a crush on Rogers.
Though made at the end of the prime noir era, "The Burglar" (1957) is a classic pulp crime thriller, steeped in anxiety and sexual tension and conflicted emotions, with a jagged modern style. Dan Duryea centers the film with an easy, almost world-weary confidence and Jayne Mansfield is the junior member of his gang. David Goodis, one of the greats of pulp crime fiction, adapts his own novel and Paul Wendkos (who became one of the top TV directors) makes his directing debut, bringing out the stir-crazy anxiety of laying low and the seedy corruption of bad cops on the make.
The discs feature video introductions by Martin Scorsese on most films, plus galleries of stills, posters, lobby cards and other advertising paraphernalia. While I received the finished discs from the set (they all look very good, nicely mastered from clean, well-preserved prints with strong contrasts, and they feature handsome, easy-to-use menus) I did not get the actual disc case, which I'm told is a three-panel fold-out novapak/digipak hybrid. What that means is that two of the three disc trays hold two stacked discs on the post, with one tray for the fifth disc. I'm not a fan of the stacked trays (too much danger of grit or other impurities getting ground between discs) but it is a minor quibble.
This online exclusive is available through the TCM Shop and Movies Unlimited.
For more releases, see Hot Tips and Top Picks: DVDs, Blu-rays and streaming video for February 7