FEATURED POST
The 1979 film takes the music as a guide through the rock and roll culture wars of sixties Britain
By 
SeanAx
 Aug 29, 2012 11:29PM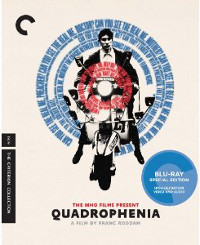 "Quadrophenia" (Criterion), the 1979 film of Pete Townsend's landmark rock opera (originally performed by The Who) about teen rebellion and alienation in 1965 London hit the screen under the direction of Franc Roddam with Phil Daniels as the restless, Vespa-riding Jimmy, a Mod in the rock and roll culture wars. The portrait of early sixties Britain, of young adults looking to carve out their own identity distinct from the glum middle class dullness of their parents, and of a music explosion that becomes part of their lives, is astounding, and the desperation of Jimmy's dive into this vivid but undefined culture reverberates to this day. "I don't wanna be like everybody else. That's why I'm a mod, see?" Sting is memorable as the charismatic Mod leader with a working class secret, future Brit star Ray Winstone is a former mate turned rival rocker, and Timothy Spall has a small role as a fellow working stiff.
It's not really a musical as much as a rough and ready drama inspired by the story suggested in the rock opera (though the Who's music underscores the film quite nicely), and it has aged very well over the years. This entire last act is set to the final side of the Who's album, a brilliant work of rock scoring that suggests the restless, frustrated impulses of confused youth, shouted out in Roger Daltry's singing and pounded into urgency by Keith Moon's drumming, as Townsend's music and lyrics merge into a transcendent convergence of themes and strangled cries of identity. Roddam finds an evocative dramatic translation of the suggestions in Townsend's lyrics and sends the film off with images as resonant as the music. Can you see the real me? Well, can you?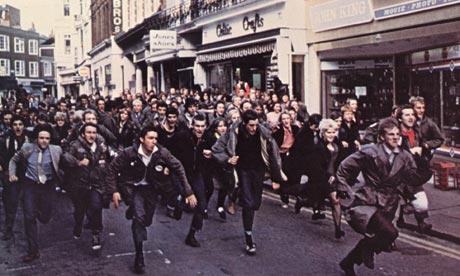 Previously available on DVD, the new Criterion edition offer a newly remastered edition for DVD and the Blu-ray debut, with the original stereo soundtrack and a new 5.1 surround mix supervised by The Who. Supplements include newly-recorded commentary by director Franc Roddam and director of photography Brian Tufano and new interviews with Bill Curbishley (the film's co-producer and The Who's co-manager) and Bob Pridden (the Who's sound engineer), the latter discussing the new mix and featuring a restoration demonstration. Also includes footage from the set, archival footage from the era about the culture of mods and rockers, a gallery of behind-the-scenes stills, and a booklet featuring an essay by critic Nick James, a reprinted personal history by original mod Irish Jack, and Pete Townshend's liner notes from the original 1973 album.
Get a feel for the texture of the film with Criterion's "Three Reasons" video after the jump. Just click on "More" below.
For more releases, see Hot Tips and Top Picks: DVDs, Blu-rays and streaming video for week of August 28