FEATURED POST
One of the strangest Hollywood misfires every made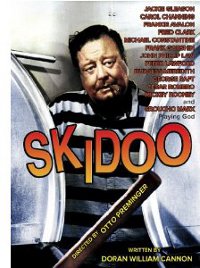 One of the strangest attempts by an independent-minded establishment director to embrace the youth culture in his filmmaking, Otto Preminger's 1968 "Skidoo" (Olive) stars Jackie Gleason as a former mob hitman named Tough Tony ordered to whack an informer in protective custody in prison.
Don't expect "The Sopranos" here. This is more like Keystone Mobsters, with career criminals and fun-loving hippies colliding in a comedy of flower power, slapstick and psychedelia, the latter courtesy of a mass LSD trip in a maximum security prison. Groucho Marx is the wiseguy mob boss named God who has a germ phobia while Carol Channing bridges the cultural gap with a go-go dance and a strip-tease.
It's quite a cartoonish comedy of goofy goodfellas and hippie stereotypes in long hair, love beads and body paint, not necessarily a good film but a truly strange time capsule of Hollywood in 1968 trying to bring social satire and counterculture attitude to its style of comedy. And it does entertain if only by virtue of its misguided portrait of the drug culture and the counterculture, garish slapstick and bizarre plot, all of which has made it a minor cult item. The cast also includes Frankie Avalon, John Phillip Law, Peter Lawford, Burgess Meredith, George Raft, Cesar Romero and Mickey Rooney. Harry Nilsson provides the original songs, a mix of sixties pop and bouncy tin pan alley style, and sings the closing credits.