FEATURED POST
An animated comedy of a domesticated macaw in the wilds of Rio de Janeiro's carnivale
"Rio" (Fox) is a classic fish-out-of-water tale for the birds. In this case, it's a tropical macaw (voiced by Jesse Eisenberg) raised in the domesticity of a Minnesota home who ends up chained to a wild female macaw (Anne Hathaway) and on the run from poachers in Rio de Janeiro. The operative word being "run," as our nerdy hero Blu hasn't learned to fly.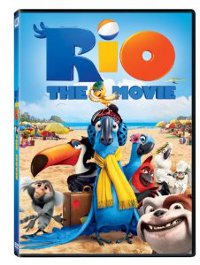 Produced by Blue Sky Studios and directed by Carlos Saldanha (who made the "Ice Age" pictures together), were not exactly talking Pixar stature here. There's lots of color, some gorgeous animation, a running beat of lively (if not always memorable) music and the energy of lovely tropical birds in flight through the dazzling animated recreation of Rio de Janeiro's Carnivale. The rest is formula whipped up with all the eye candy that animation can buy: a nasty cockatoo (Jermaine Clement) who sings a song in praise of his villainy, a flock of eccentric characters who join our heroes and a pair of bird-loving humans who manage to find a little romance of their own on their journey to find the missing birds. They make for fine company for 90-minute feature as long as you don't demand much in the way of story or surprises.
"It's an intermittently charming (albeit, of course, almost entirely predictable) tale with some (and I do mean some) engaging voice work and many nifty if not staggeringly ingenious bits of action business," admits MSN critic Glenn Kenny. "But the kids will be taken with it, surely…. the story, while predictable, just bops along, and the whole thing really IS a pretty nice bit of eye candy."
The DVD comes with the usual array of family-friendly featurettes and kid-focused interactive supplements. The 24-minute "Saving the Species: One Voice at a Time" is the most informative of the behind-the-scenes pieces and it's still a pretty breezy tour through the voice actors (with footage from the recording sessions) and lead animators describing their approach to creating the characters. The music is explored in the 13-minute "Boom-Boom Tish Tish: The Sounds of Rio" and you can get a whirlwind tour through Carnivale in the 8-minute "The Real Rio," which looks more like a tourist commercial than a documentary. And there is a single deleted scene of Blu discovering fresh fruit, presented via animated storyboards and a finished soundtrack.
The rest is music videos and interactive goofs, like "Explore the World of Rio" (with video clips, stills and essays) and "Carnival Dance O Rama" (learn to dance from the animated characters), plus the film's "Angry Birds" promos.
The Blu-ray also offers "Postcards from Rio" and bonus BDLive-accessible behind-the-scenes footage, plus a bonus DVD and digital copy.