FEATURED POST
Giamatti's deft performance centers this Canadian comic drama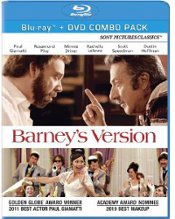 Sleeper release this week is "Barney's Version" (Sony), a Canadian production based on a Mordechai Richler novel and carried by a deft performance from Paul Giamatti. Set in Jewish-Canadian community of Montreal (with side trips to Rome and New York), it stars Giamatti as Barney Panofsky, a burn-out producing a mediocre Mountie soap opera and a schlub of a compromised romantic who reflects back on a life of screw-ups and accommodations. Rosamund Pike co-stars as the one true love of his life; he meets her on his own wedding night, of course. That's the kind of luck he has.
Director Richard J. Lewis never quite gets a handle on the sprawling storyline and stumbles over the tonal shifts and awkwardly exaggerated supporting characters but Giamatti holds the center together. "The pleasures are not in in-jokes and supporting parts, not in plotting or the film's unremarkable murder-investigation​ subplot," affirms MSN film critic James Rocchi. "They are in Giamatti and Pike, two actors who, in a time when parts in dramas seem to be growing more and more small and flavorless, are offered a banquet."
Dustin Hoffman plays Giamatti's rough-edged but unfailingly supportive father and fans of Canadian cinema will appreciate the tongue-in-cheek cameos by Atom Egoyan and David Cronenberg as directors on the soap opera, Paul Gross as the show's star and Denys Arcand, Ted Kotcheff and Maury Chaykin in bits through the film.
Available on Blu-ray+DVD Combo Pack, with commentary by director Richard J. Lewis, writer Michael Konyves and producer Robert Lantos, your basic "Behind the Scenes" featurette, an interview with author Mordecai Richler, a brief red carpet piece with the cast and crew and the 35-minute "92nd Street Y Q&A with Paul Giamatti and Annette Insdorf" focusing on "Barney's Version."