FEATURED POST
Plus the 1934 'The Count of Monte Cristo' and Antonioni's debut feature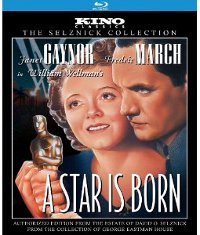 "Columbia Pictures Film Noir Classics Volume III" (TCM Vault Collection) contains five minor gems of the genre: Joseph H. Lewis' "Gaslight"-noir "My Name Is Julia Ross" (1945), Broderick Crawford in the undercover agent noir "The Mob" (1951), Mickey Rooney in the heist noir "Drive A Crooked Road" (1954), Edward G. Robinson and Ginger Rogers in "Tight Spot" (1955) and Dan Duryea and Jayne Mansfield in "The Burglar" (1957). The discs feature video introductions by Martin Scorsese and other supplements. This online exclusive is available through the TCM Shop and Movies Unlimited. Videodrone's review is here.
"A Star is Born (1937)" (Kino) makes a nice bookend to "Wings," which debuted last month on Blu-ray and DVD. Also directed by William Wellman, this is another of his big, Oscar-winning (for Story and Cinematography) prestige projects, a grand fable of Hollywood stardom done up with romantic glamour and tragic melodrama and a cynical undercurrent of caustic wit (the script was co-written by the acerbic Dorothy Parker). Janet Gaynor is the improbably named Esther Blodgett, whose Cinderella story rise is counterbalanced by the fall of her husband, former matinee idol turned bitter alcoholic Norman Maine (Fredric March). Gaynor's milk-fed wholesomeness is a tad corny next to March's worldly cynicism, but she's a movie star through and through. Adolphe Menjou co-stars as a mercenary agent with a sing-song patter. One of the quintessential Hollywood self portraits, it was inspired by George Cukor's "What Price Hollywood" and the real life story of Colleen Moore and John McCormick, and it was remade twice.
While it has been on DVD before, Kino remasters the early Technicolor feature from an original nitrate 35mm print. It's a soft and somewhat mushy picture next to better-preserved color films of the era, but it's still the best it's ever looked on home video. Blu-ray and DVD, with only nominal supplements: a wardrobe test, a gallery of stills and the trailer.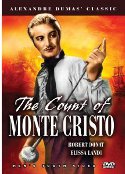 Michelangelo Antonioni's debut feature "Story of a Love Affair" (1950) is a kind of dispassionate anti-noir: former lovers Lucia Bosé and Massimo Girotti are reunited when her jealous husband starts digging into her romantic past. Girotti's fiancé died under mysterious circumstances years before and now they start plotting the murder of Bosé's husband. Previously available in a box set from Kino, its now available as a separate two-disc release with the same interviews and featurettes.
"The Count of Monte Cristo (1934)" (Hen's Tooth), starring Robert Donat as Edmund Dantes, is a low-budget attempt at a lavish Hollywood costume adventure and the budgetary restrictions show: but for a couple of big set pieces, this adventure gets bogged down in stagebound conversations in drawing rooms and prison cells. Though it proclaims a "new digital transfer from a 35mm Fine Grain," this is no restoration. It's a weak, grainy image with signs of print degradation.
Plus:
"Metal Shifters" (Anchor Bay), a SyFy Original Movie about an alien life form that hitches a ride on a satellite that crashes to Earth. Blu-ray and DVD.
"The Phantom of the Opera at  the Royal Albert Hall" (Universal) celebrates the 25th  Anniversary of the Andrew Lloyd Webber musical with a special full-scale production starring Ramin Karimloo and Sierra Boggess and shot on high-definition video. Blu-ray and DVD, with two featurettes.
For more releases, see Hot Tips and Top Picks: DVDs, Blu-rays and streaming video for February 7