FEATURED POST
Plus Seijun Suzuki's 'Tokyo Drifter' and 'Branded to Kill'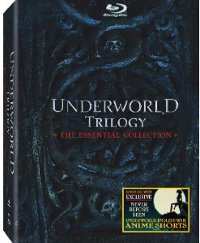 "Underworld Trilogy: The Essential Collection" (Blu-ray) (Sony) collects all three of the "Underworld" films in anticipation of the upcoming fourth installment. The first "Underworld" is not a comic book movie, but it sure plays like one. In the bleak tech noir future of drizzly nights, rain slicked streets, and neon blue and cold white lighting, a centuries-old war between the vampires and werewolves rages. Kate Beckinsale is the vampire's greatest warrior, a "Death dealer" armed with silver-bullet guns and high-tech throwing stars and dressed in shiny black leather so tight and form-fitting that the corset has to be tied around the outside. Lithe, limber Kate looks great but her first kiss with ostensible love interest Scott Speedman, a medical intern of particular interest to the Lycan (werewolf) pack, is single flattest, coldly curious liplock in the last century of cinema, and that disaffection spreads to the entire tech-noir spectacle. They turn out to be pawns in a beastly conspiracy that flips the conflict into a modern version of class warfare between old European aristocracy and peasant serfs fighting for freedom and equality, but this sleekly stylized monster mash is just a big, muddy mess of bad guys: predator versus predator, and the winner takes the human race. Len Wiseman (Beckinsale's husband) directs and Bill Nighy stands out as the once and future vampire king.
"Underworld Evolution" sets Beckinsale and Speedman back on the run from immortals of all persuasions who don't want the bloodlines to mix. Again directed by Len Wiseman (Beckinsale's husband), the nighttime action film stars Tony Curran, Shane Brolly, Steven Mackintosh, Bill Nighy and Sir Derek Jacobi as immortal aristocracy and, quite frankly, it's bloody awful (emphasis on the bloody). "Underworld: Rise of the Lycans" is actually a prequel set in medieval times chronicling… well, you can read it in the title. The vampires (led by Bill Nighy) have enslaved the werewolves, but one of the oppressed (Michael Sheen) rises up to free his people. It's bombastic and bloody and full of medieval faire flair, done up in a shadowy nocturnal palette of steel blue and stone gray with the requisite splashes of blood red accents, but it's also junky genre fun and more fun that "Evolution."
All three films feature commentary by director Len Wiseman and others, documentaries and featurettes. The films have all been available before on a Blu-ray box set but this release features the exclusive bonus disc "Underworld: Endless War" with new anime shorts, plus the cloud-based Ultraviolet function for digital download and instant streaming via wi-fi.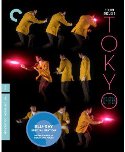 Seijun Suzuki's whacked out crime films are a breed apart, stylistically outrageous tales of hit men and gangsters in almost abstract narratives. Criterion releases two of his best on Blu-ray (and newly remastered DVD editions). High contrast B&W photography explodes into the candy colored comic book images in "Tokyo Drifter" (Criterion), the story of a hitman (Tetsua Watari) who decides to go his own way. The twisting narrative takes Tetsu from deliriously gaudy nightclubs, where killers hide behind every pillar, to the beautiful snowy plains of Northern Japan and back again, whistling his own theme song as he dodges assassins and leaves a trail of corpses in his wake. His extreme stylization, jarring narrative leaps, and wild plot devices combine to create a pulp fiction on acid, equal parts gangster parody and post-modern deconstruction.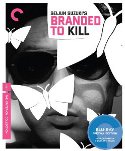 "Branded to Kill" (Criterion) looks like a pop art collage come to life in B&W CinemaScope in its almost incoherent story of one gang's number three hitman who becomes their own number one target after the butterfly effect upsets an important mission. Played by genre icon Jo Shishido, he's no pushover and leaves all comers splayed in death contortions that could qualify for an Olympic event, but the rat-a-tat violence gives way to a surreal, sadistic game of cat and mouse when the legendary Number One hitman moves in with him in a macho, testosterone-laden Odd Couple truce that ends up with them handcuffed together. Kinky? Not compared to earlier scenes. Suzuki so pushed his yakuza parodies and cinematic surrealism that his studio Nikkatsu finally called in their own metaphoric hit and fired the director with such force that he was effectively blackballed from the industry for a decade.
Both discs feature archival video interviews with Suzuki from 1997 and new interviews with Suzuki and assistant director Masami Kuzuu conducted from this release, plus booklets with essays by Howard Hampton and Tony Rayns. I don't have the 1998 Criterion editions to compare to, but Gary Tooze did direct comparisons at DVD Beaver and writes that both are significant improvements of the previous release. (Tokyo Drifter here and Branded to Kill here). Definite upgrade material.
For more releases, see Hot Tips and Top Picks: DVDs and Blu-rays for December 20