FEATURED POST
Joel McCrea stars with Fay Wray in the cult classic shot on the sets of 'King King'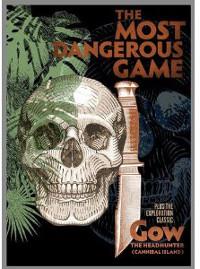 "The Most Dangerous Game / Gow" (Flicker Alley) – "The Most Dangerous Game" (1932) is the first screen adaptation of the classic story of the big game hunter who stalks human prey, and it's still the best. Joel McCrea plays the celebrated big game hunter who is shipwrecked on an isolated jungle island by the mad Count Zaroff (Leslie Banks, perfectly unnerving), an aristocrat who, bored with stalking animals, has switched to hunting humans in his island jungle. Fay Wray and Robert Armstrong, stars of "King Kong" (which was being shot concurrently), play fellow "guests" and future victims of Zaroff, who teases them with vague hints of their fate with a manner that suggests aristocratic excess and sadistic megalomania. And it's not just bloodlust that drives Zaroff; he's saving his female captive for the post hunt festivities. "Kill!... Then love," he explains to fellow hunter McCrea in his invitation to join him as a partner. When he refuses, he sends McCrea out as his next challenge.
The film was shot on the sets of "King Kong" during down time on the production, with members of the cast and crew giving what was in many ways a B-movie the A treatment. After a static opening, the film quickly delivers a gruesome wreck (the first of the grotesque and lurid details that, even in suggestion, give the film a pre-code perversity beyond the premise) and an ominous cocktail party in the vast castle drawing room, and then simply adds to the promise of illicit thrills. Ernest B. Schoedsack, who shares directing credit with Irving Pichel, delivers terrific set pieces and exotic atmosphere in a tight 63 minutes. Schoedsack and his producing partner Merian C. Cooper don't have the snap that Warner Bros. directors brought to their street smart early sound productions, or the carefully sculpted mood of the best of the Universal horror movies, but they deliver great spectacle and wonderfully lurid flourishes, and once the film moves into the action portion, it doesn't slow down.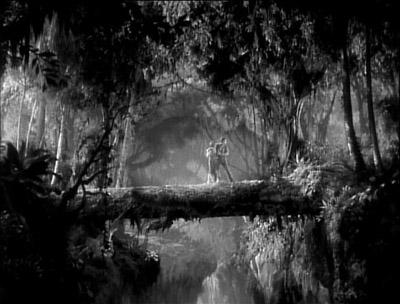 This isn't so much a double-feature disc as one well-packed with supplements, and the primary supplement is the early south seas documentary / travelogue / exploitation spectacle "Gow The Headhunter" (1931), shot in part by Merian C. Cooper and Ernest B. Schoedsack on the two-year expedition mounted by Edward A. Salisbury in 1920. There's little art or ethnographic value to this feature version of the oft-released production, taken from the 1956 re-release "Cannibal Island," which features essentially the same footage and narration of the 1933 sound version "Gow, The Killer." It includes inserted shots of native nudity and suggestions of cannibalism around the edges to draw in audiences, with almost unbearably chauvinistic and exploitative commentary by William Peck: the great white hunter passing judgment on the primitive tribes of his travels with paternal arrogance. Today, it's more of a curiosity than a classic.
The single-disc presentation features commentary on both films. Historian Dr. Richard Jewell (aka Rick Jewell, USC film professor and author of "RKO Radio Pictures: A Titan in Born") provides detailed historical background to "The Most Dangerous Game," following the Rudy Behlmer model of focusing on backstory and historical notes over aesthetic observations and critical reading. Exploitation film historian Eric Schaefer hasn't much to add to "Gow," mostly reiterating and, where appropriate, amending and correcting the 1933 narration. There's also an audio interview with Merian C. Cooper, conducted by Kevin Brownlow in the early 1970s, set to a slideshow of stills and art, and an accompanying booklet with notes on the two films.
For more releases, see Hot Tips and Top Picks: DVDs, Blu-rays and streaming video for the week of July 3