FEATURED POST
Plus 'Sometimes a Great Notion' and 'Hard Core Logo'
By 
SeanAx
 Dec 22, 2012 12:43PM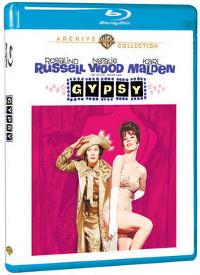 Warner Archive debuted its first Blu-ray releases this month: "Gypsy" (Warner Archive Collection) and "Deathtrap" (Warner Archive Collection). These are not traditional manufacture-on-deman​​d discs -- they are pressed in limited quantities, like small-batch brews -- but are available through the Warner Archive website just like their DVDs.
"Gypsy" - "Hello everybody, my name is Gypsy! What's yours?!" The 1962 screen musical based on the memoirs of legendary burlesque dancer Gypsy Rose Lee is as much (if not more) the story of Rose (Rosalind Russell), the domineering stage mother who pushes her two daughters into a gypsy existence on the vaudeville circuit, as it is on Louise (Natalie Wood), the wallflower daughter who becomes the legendary burlesque queen.
Wood plays the role as the easy-going tomboy who just wants to please her mother but would rather she just get married to the impossibly patient Herbie (Karl Malden), forever waiting for Rose to get show business out of her system. Russell, meanwhile, goes stage diva in every scene and blasts her signature numbers ("Some People," "Everything's Coming Up Roses," "Rose's Turn") as if playing to the back row. Which is perfect for the character, a wannabe celebrity living her dreams through her daughters. The burlesque scenes are played with wink and a nod, a sense of nostalgic naughtiness but harmless at heart, as they veterans teach Louise the secrets of the strip tease in the song "You Gotta Have a Gimmick." Which makes for a surprisingly family-friendly musical about the most famous stripper of the burlesque era. Though made in 1962 film, it has the feeling of an old fashioned 1950s musical with big musical numbers, colorful sets, flamboyant costumes, and outsized performances. It's a bit long and lumbering and director Mervyn LeRoy doesn't bother trying to convince you the studio sets are anything but more make-believe. In fact, at times it's like he's just turned the camera on the stage and told the cast to play to the audience.
Two musical numbers were cut from the film and are included in the extras as outtakes. Available exclusively from Warner Archive.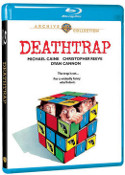 "Deathtrap," another stage-to-screen adaptation, is the other debut Blu-ray. Based on Ira Levin's ingeniously-plotted Broadway hit, this one plays on its own self-aware setting. Michael Caine is the playwright on the downhill slide of his career, with Dyan Cannon as his nervous wife, Irene Worth as the celebrity psychic next door, and Christopher Reeve as a precocious student from one of his workshops who has written what looks to be a sure-fire stage hit called "Deathtrap," and they all make their entrances and exits right on cue.
In the first act, the playwright concocts a scheme to kill the student and steal his play, and if you if you can't imagine where it can possibly go after that, that's part of the design. The screenplay (adapted by Jay Presson Allen) opens the film up a bit, opening and closing the story on Broadway, but mostly it stays put in the home of Caine and Cannon and the story as just as insular, as if taking place on its own private stage separate from the world. If director Sidney Lumet doesn't quite overcome the stagebound limitations, he makes it an interesting space and deftly moves characters in and out of the story. It's more about concept and cleverness than story and character but the battle of wits and feints and role playing gives the actors plenty to play with. Michael Caine sinks his teeth into the role of a fading writer who pens a better plot for his own schemes than his stage plays and Christopher Reeve matches him in a battle of wits as a cagey young man with a savage intelligence and a driving self-interest. No supplements. Available exclusively from Warner Archive.
More Warner Archive Blu-ray releases are due in February 2013, with two releases a month anticipated. Already announced as future releases: "The Hudsucker Proxy" from the Coen Bros. and Peter Weir's "Fearless" with Jeff Bridges.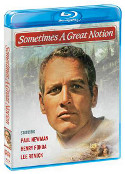 Paul Newman stars in "Sometimes a Great Notion" (Shout! Factory), the 1970 drama based on Ken Kesey's novel about a family of independent loggers in Oregon who defy a strike in their timber community. Paul Newman also directs -- it's his second effort behind the camera -- and he connects with the ornery independence of this logging clan, even though their defiant go-it-alone attitude is the farthest thing from Newman's own charitable politics. Henry Fonda co-stars as the rigid family patriarch, Lee Remick is the wife who stands by her man even if it means she has no voice in the matter, Michael Sarrazin and Richard Jaeckel are his younger brothers. No supplements.
"Hard Core Logo" (VSC), Bruce McDonald's edgy mockumentary of a punk band's reunion tour, has been called Canada's answer to "This Is Spinal tap," but the satire here is more cutting and raw, a portrait in volatile personalities on a self-destructive tour. Hugh Dillon and Callum Keith Rennie star as the two frontmen, each chafing against the other, and John Pyper-Ferguson and Bernie Coulson fill out the quartet. The film has been restored for Blu-ray and features commentary by director Bruce McDonald with actor Hugh Dillon and screenwriter Noel Baker. It also features the debut of the 2010 pseudo-sequel "Hard Core Logo 2," which focuses not on the band but the director (Bruce McDonald playing himself) as he tries to rescue his career, and includes director commentary and bonus footage.
"Decasia" (Icarus), Bill Morrison's experimental feature, is a tribute to the impermanence of film and photography, an impressionistic montage of decaying old film clips. The beauty is both in the original images and in the abstractions of the mottled destruction of decomposing nitrate and distorting emulsion. Also features Morrison's 2004 short film "Light is Calling." Both are scored by Michael Gordon.
For more releases, see Hot Tips and Top Picks: DVDs, Blu-rays and streaming video for week of December 18