FEATURED POST
Kenneth Branagh directs the big screen debut of the Viking Prince of superheroes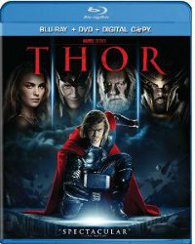 When I ponder the choice of Kenneth Branagh to direct the big screen debut of Marvel Comics' "Thor," the Norse god as comic book superhero, I can't decide if it is inspired or obvious. After all, why wouldn't (and why shouldn't) the gods of Valhalla speak and behave as the monarchs of Shakespeare's plays? And who better to bring out the Shakespearean dimension of the mythical figures and epic tales (filtered through the four-color sensibilities of Stan Lee and Jack Kirby, and many others since) than Branagh?
See an MSN exclusive clip with Kenneth Branagh and Chris Hemsworth from the Blu-ray supplements below.
The story of the big-screen "Thor" is the story of power, hubris and lessons learned when the might Prince Thor (Chris Hemsworth), son of Odin (Anthony Hopkins), is stripped of his immortality and his magical hammer, Mjolnir, and banished to the mortal plane of Midgard (that Earth to you and me) when he starts a war with the Frost Giants. Which is in many ways a boilerplate retelling of a familiar story, with gods and robots and magic and science, not to mention a hunky goldilocks of a god and a spunky, cute as a button female physics visionary (Natalie Portman) playing at modern romance, to liven things up. A little, anyway, but not much.
Kenneth Branagh talks movies with MSN at "Watching with Kenneth Branagh" here.

Which is not to say that "Thor" is awful, simply uninspired, full of sound and fury and not much else. Hopkins can do regal grace and tortured tough-love imperiousness in his sleep and, practically buried in his flamboyant outfit, does so at times here. Hemsworth is an impressive specimen but not much of a presence and The Warriors Three (Ray Stevenson, Josh Dallas and Tadanobu Asano, struggling through his English dialogue) plus one (Jaimie Alexander as warrior woman Sif) are fun-loving comrades with generic charm. But it does offer a dimension of tragedy in the primal scream of little brother Loki (Tom Hiddleston), god of mischief always in the shadow of golden boy and heir apparent Thor, confronting an identity crisis with a fierce plot and a heartbreaking endgame that, unfortunately, gets lost in the Earthbound politics (hey, it's S.H.I.E.L.D. on the spot once again) and weird god-versus-robot spectacle. And, of course, Kat Dennings as the saving grace of the mortal cast, her eyes lingering over Hemsworth's physique with a playful sexuality absent from Portman's performance.