FEATURED POST
Kino Lorber and Redemption presents five films from France's director of dream cinema and surreal horror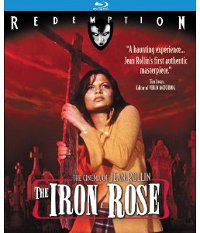 There was no director like Jean Rollin, the French horror fantasist who died in 2010 and left behind a strange and wonderful (and sometimes horrible) legacy in his distinctive films. His films are categorized as "horror" by genre, and to be sure they are obsessed with vampires and ghosts and spirits from past eras, but they really belong to a genre all their own. Imagine the poetry of Jean Cocteau meeting the emotionless performances of Robert Bresson in erotic fantasies and surreal dreams of sex and blood, shot on starvation budgets and rushed shooting schedules, cast with amateurs and, later, porn stars in the leads.
Poor bootleg copies and inferior, heavily edited American versions aside, most American had their first opportunity to discover his films when the first DVD editions (resurrected and produced by the British home video company Redemption and licensed to American companies) poured out in the early 2000s, part of the gush of cult cinema that suddenly appeared in the early days of the format.
What a discovery! These films were unbelievable: B-movie exploitations by an avant-garde eroticist, the filmmaking at once slapdash and intense, the imagery screwy and haunting, the narratives dreamy, inexplicable, at times incoherent yet often hypnotic and mesmerizing. Some of his filmmaking was crude (perhaps the result of budget or time, or simply his disinterest in getting a contractual sex scene out of the way so he could choreograph one of his set pieces) but at his best, he was the erotic poet of le cinema fantastique.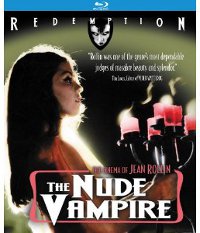 More than ten years later, Redemption has remastered the films for high definition and Kino Lorber has licensed the library for new stateside DVD editions and their American Blu-ray debuts. The first five releases are available this week, including two films that were not part of the earlier Image / Redemption collection but were briefly released by Redemption's own American label (which I knew existed never actually saw anywhere; this was one project that suffered from lack of publicity and distribution and the disc ended up pretty rare).
"The Nude Vampire" (1970), Rollin's second feature, and "The Iron Rose" (1973) were new to me, and while not exactly revelatory, they are marvelous. The former is a strange work of obsession, conspiracy, family rebellion, secret experimentation, and innocence imprisoned, both a vampire film and a strange science fiction fantasy of a shadowy old men performing secret experiments, the latter a weird haunted graveyard piece of two lovers trapped in cemetery after dark, when the locking of the gates transforms the pathways into an inescapable maze. These aren't stories so much as journeys into fantastic situations, all sustained mood and striking imagery. The parade of night people converging on the country villa of "The Nude Vampire," marching across ancient paths and raised stone walkways, carries the film from the modern world to a supernatural existence in a single sequence. And both films end up, at some point, on a primal beach where rotting pilings rise from the surf like ancient totems. Rollin returns to this beach again and again in his films.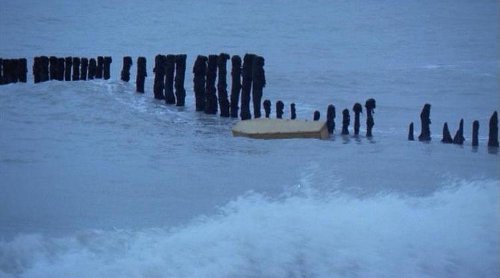 Both films were shot in low budgets and the master prints show minor scratches and grit, but the colors are amazing and the vivid mastering brings Rollin's imagery to the forefront. Both the DVD and Blu-ray editions from Kino Lorber feature introductions by Jean Rollin (from video interviews conducted by Daniel Gouyette between 1999 and 2003), an interview with longtime Rollin collaborator Natalie Perrey, Rollin trailers and a twenty-page booklet with a lovely and length introductory essay by Tim Lucas, plus optional English dub soundtracks in addition to the original French soundtrack. "Vampire" also features an additional 19-minute interview with Rollin and "Rose" features an interview with actress Françoise Pascal and an alternate English opening.