FEATURED POST
Women dominate these collections of pre-code fun and fifties thrillers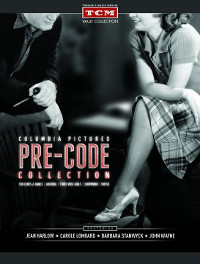 The TCM Vault Collection is becoming a clever approach to the growing
manufacture-on-deman​d
industry. Branded and managed by Turner Classic Movies and featuring movies from the Columbia and Universal archives (which also includes Paramount's early films), they release curated classics in themed collections, and like the recent Warner Archive "Forbidden Hollywood" sets, the initial releases are all on traditional pressed discs in digipak cases. When the initial pressings sell out, subsequent editions will feature burned discs
And speaking of "Forbidden Hollywood," you could call "Columbia Pictures Pre-Code Collection" (TCM Vault Collection) a companion set. The "Forbidden Hollywood" collections (numbering five sets now) are show what how Warner Bros. and MGM studios were pushing the envelope of sex, subject matter, and attitude in the years before the censorship hammer of the production code came down on Hollywood. Columbia films—with the notable exception of those from Frank Capra—did not have the energy and momentum that defined the Warner studio style in the thirties, but they did have a handsome sheen and sense of low-key production design that defined and contrasted the lives of the rich and poor very nicely.
They also had the ambition of studio head Harry Cohn, who pushed his smaller, poorer studio to compete with Hollywood powerhouses. This collection is carried by some of the most glamorous female stars of the day -- Barbara Stanwyck, Jean Harlow, Carole Lombard, Mae Clarke -- and all but Stanwyck were on loan from other studios.
In addition to the stars and the bad behavior on display, the six films offer early screenplays by two of the pre-eminent screenwriters of the 1930s: Jo Swerling (Oscar nominee for "Pride of the Yankees") and Robert Riskin (Oscar winner for "It Happened One Night"). Both were Frank Capra favorites, Swerling in the early days and Riskin in later films. In fact, Jo Swerling wrote three Barbara Stanwyck pictures for Capra. "Ten Cents a Dance" (1931) and "Shopworn" (1932), scripted by Swerling and starring Stanwyck, were made in the midst of that run, and while fun, are ultimately poor cousins to the more dynamic Capra films.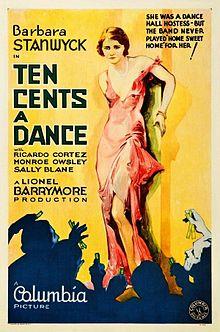 In "Ten Cents a Dance," she's a former dance-hall girl married to an ambitious but weak-willed young man trying to get ahead in business. Directed by Lionel Barrymore, this drama follows familiar depression-era themes of the hypocrisy of the rich and privileged, who pass judgment on the moral character of worker class folks who do what they can to survive while behaving in exactly the same manner they decry, as if judgment is a perk of privilege. While she slaves away for her cheating husband, good guy society slummer Ricard Cortez bides his time with Stanwyck by the ticket. And yes, the depression era standard of the title is the film's theme song. In "Shopworn" (1932), she's a salesgirl sent to reform school by the mother of her college-boy sweetheart (Regis Toomey).
Robert Riskin co-wrote "Shopworn" and scripts the other three films on the disc. The title of "Three Wise Girls" (1932) is something of a misnomer. Jean Harlow, playing a street-smart small town girl who finds the big city of New York has even more wandering hands and oily wolfs than her hometown, does have an innate good sense when it comes to the indecent proposals of rich men with wives, but best friend (Mae Clarke) has no such defense. A high-living model, she has fallen hopelessly in love with the rich married man who keeps her in style. Emphasis on hopeless, as this sleaze starts hitting on Harlow the moment they are introduced. Harlow had previously played the title role (though not the lead) in "Platinum Blonde" and was just about to become a superstar at MGM. This film shows how she could rise above her material with nothing but brass and confidence.
"Virtue" (1932), starring a very young Carole Lombard as a prostitute (the film doesn't even use the period cover of "dance hall girl" here), revisits the moral territory of "Ten Cents a Dance," with Pat O'Brien as the wise-guy but inherently decent taxi driver who impulsively marries her without knowing her past. The film never quite propels the story but the sparks between Lombard and O'Brien are quite engaging and Jack La Rue is perfect as high-living, low-class crook, a thuggish gigolo with a great mug and a bad attitude.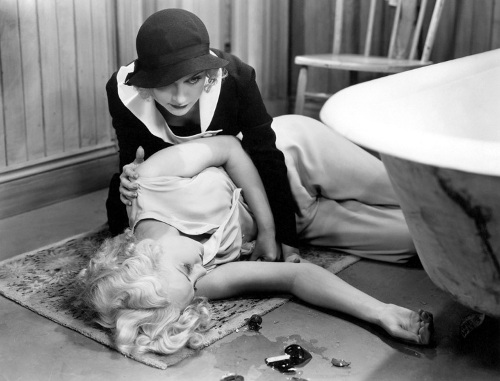 "Arizona" (1931), starring Laura La Plante as a woman plotting revenge on the football star (John Wayne in his brief pre-western-star portion of his career) who dumped her for a military career, completes the set.
Five discs in a three-panel digi-pak with the awkward clasp-style disc trays. Still not quite used to it, but it's getting easier with practice. Also features galleries of stills, posters, and other film memorabilia.
Lou Lumenick, who has been loyally reporting on and reviewing the active MOD market on The New York Post movies blog, also reviewed this set.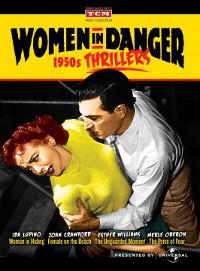 The title of "Women in Danger: 1950s Thrillers" (TCM Vault Collection) pretty much describes exactly what you're getting. The four-disc set features four films from the Universal vaults leaning toward the low-budget end of the studio production slate, and like the "Columbia" set, they are carried by the women. Not quite film noir, these are melodramas with a dark shadow over them and strong leading women no longer considered box-office draws by Hollywood.
"Woman in Hiding" (1950) stars Ida Lupino as a newlywed on her honeymoon who suddenly has good reason to suspect that her husband (Stephen McNally) is out to murder her. Howard Duff co-stars and Lupino hit it off so will with Duff that they married the next year and continued working together.
Joan Crawford is the "Female on the Beach" (1955), a widow living in a beach house where the previous tenant died. Perhaps it was murder, and handsome neighbor Jeff Chandler could be a suspect.
Aquatic musical star Esther Williams takes a rare dramatic role in "The Unguarded Moment" (1956), playing a teacher stalked by a peeping tom, opposite John Saxon (in one of his earliest roles) as the prime suspect. This is the only color film of the set, and frustratingly it is a widescreen movie in a non-anamorphic presentation, which results in a poor detail when "zoomed in" to fill a widescreen set.
The regal Merle Oberon stars in "The Price of Fear" (1956) as a woman who frames a man for the hit-and-run she committed, only to be tangled up in a murder plot. This is presented in anamorphic widescreen.
Four discs in a three-panel digi-pak with the same clasp-style disc trays, plus a video introduction by Ben Mankiewicz and galleries of stills, posters, and other film memorabilia.
Available exclusively through the TCM Shop and Movies Unlimited.
"Columbia Pictures Pre-Code Collection"
"Women in Danger: 1950s Thrillers"
More MOD reviews at Videodrone here.
MOD stands for "Manufacture on Demand" and represents a recent development in the DVD market, where slipping sales have slowed the release of classic, special interest and catalogue releases. These are DVD-R releases, no-frills discs from studio masters, ordered online and "burned" individually with every order. You can read a general introduction to the format and the model on my profile of the Warner Archive Collection on Parallax View here and on the MGM Limited Edition Collection on Videodrone here.