FEATURED POST
The big Oscar winner debuts on Blu-ray, DVD and OnDemand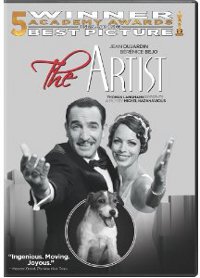 "The Artist" (Sony) is a valentine to silent movies. You've likely heard that before and it's true, but it's more than that. A modern movie in a classical mode, shot in glorious black and white without spoken dialogue (but filled with music and sound) in a directed with a lively spirit of romance and adventure and joy, it is a celebration of the dreams and fantasies and magic of the movies of every age.
Embraced by film critics and audiences all over the country, it generated a renewed interest in silent movies and it charmed Hollywood, earning ten Academy Award nominations and earning five statuette, including Best Picture, Best Director (Michel Hazanavicius), and Best Actor (Jean Dujardin). Not bad for a foreign film shot on location in Hollywood with French stars, American co-stars, and a charismatic pooch who almost steals the film. And for reasons I don't quite understand, it has suffered a backlash from some of the movie lovers you would most expect to appreciate a tribute to the golden era: fans of the very classic movies the film celebrates.
So let's just be clear about one thing: "The Artist" is not an attempt to recreate the art of silent cinema at its height. It does not have the richness or ambition of "Sunrise" or "Metropolis" or "The Crowd" or "The Gold Rush," and it doesn't pretend otherwise. It is an appreciation of silent cinema from a director who quite deftly incorporates the flavor of silent moviemaking, with its physically expressive acting, longer shots, and more patient editing rhythms, with a more modern sensibility for contemporary audiences. And it is a delight.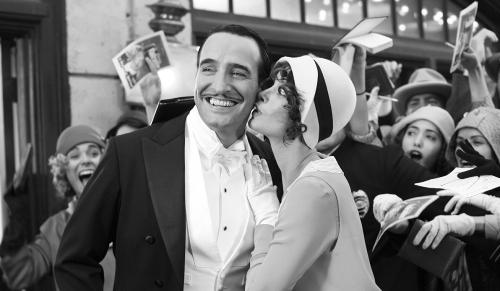 Jean Dujardin plays George Valentin, a swashbuckling silent superstar with a name that evokes Rudolph Valentino and a screen persona modeled on Douglas Fairbanks, who is trying to hold on to his silent movie identity as sound upends Hollywood. It's kind of "Singing in the Rain" by way of "A Star Is Born," with the charming Bérénice Bejo (playing a young hopeful appropriately named Peppy) as the starlet on the way up who falls in love with the venerated actor left behind in the sound revolution. John Goodman plays the head of the studio, and Missi Pyle, James Cromwell, Penelope Ann Miller, and Malcolm McDowell co-star.
The story is familiar but the filmmaking finds new life in the old chestnut and the play with silent movie conventions is both clever and evocative. The very first intertitle is a promise of things to come: "You can't make me talk," reads the panel as the hero of a spy movie is tortured for information. In a later scene, Bejo's fantasy romance played out with an empty suit and a little imagination evokes the grace of silent comedy, at once inventive and poignant. It's merely an aside, but it showcases the delights to be found throughout the film.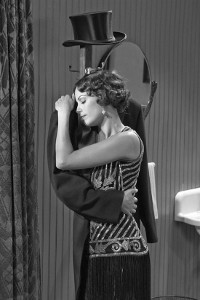 For an even more glowing appreciation, read MSN film critic Kat Murphy's review: "Neither parody nor nostalgic wallow, this sure-footed excursion into cinema's past is all artifice, but artifice so artful it feels and looks more real than many a movie unreeling in widescreen color. Unfettered by irony, inspiring the kind of spontaneous emotional response we yearn for at the multiplex, "The Artist" immerses us in joyful illusion, a world of movies within movies."
On Blu-ray and DVD, both filled with supplements. The 22-minute featurette "The Artist: The Making of An American Romance" is your usual overview, filled with interviews and film clips and plenty of praise for all involved. The "Q&A With the Filmmaker and the Cast" makes a good companion piece to the featurette. Conducted at a Los Angeles screening of the film, the onstage discussion with director Hazanavicius and stars Dujardin, Bejo, Missi Pyle, and James Cromwell, moderated by radio host Matt Holzman, runs a lively 45 minutes.
Much shorter are "Hollywood as a Character: The Locations of The Artist," a five-minute tour of the film's most distinctive Los Angeles locations, and "The Artisans Behind The Artist," with which offers brief looks into costumes, music, production design and cinematography. Both Blu-ray and DVD also include an Ultraviolet digital copy, for download and instant streaming.
Also available On Demand and for rent at Redbox.
For more releases, see Hot Tips and Top Picks: DVDs, Blu-rays and streaming video for June 26