FEATURED POST
The busiest action film of the year is fleet, unpretentious fun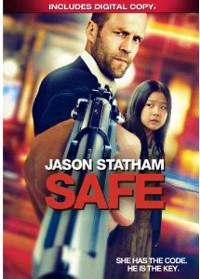 In "Safe" (Lionsgate), mid-budget action movie stalwart Jason Statham plays a former cop turned cage-match fighting burnout who, having run afoul of the Russian mob and his former colleagues in a thoroughly corrupt NYPD, rouses himself back to life as a one-man army top save Chinese math prodigy (Catherine Chan) from what appears to be every criminal element in the city.
And that's the simple description. While it's not particularly smart and Jason Statham doesn't have much range or facility with an American accent, Boaz Yakin's "Safe" delivers an unexpectedly dense, speedy, tight action thriller that is full of rapid-fire street action, makes great use of Statham's physical poise, and features a body count big enough to make a dent in the New York City census results.
"As the complications of the script pile up, seemingly needlessly, "Safe" becomes more and more bangingly ludicrous," confesses MSN film critic Glenn Kenny. "Yakin's purposefully convoluted scenario also involves an early flashing-backward-an​d-forward structure that keeps the film from getting on the surest of footings right away."
But I find most surprisingly is how deftly writer / director Yakin, who made his debut with the smart street drama "Fresh," creates a dense story woven through with explanatory flashbacks and multiple villains -- not one but two rival mobs plus the a special NYPD hit squad -- criss-crossing and colliding while chasing our runaway human computer and her self-appointed bodyguard across the streets and through the subways of New York.
It should be a mess, and it sustains itself on momentum and execution rather than story, but Yakin cuts through the congestion of the complications with sleek action and a fleet execution. It's the kind of old-school action movie that Hollywood used to be pretty good at, before they started throwing money at high concepts and CGI at action sequences. It reminds me how much I miss those unpretentious movies.
On Blu-ray and DVD, with commentary by writer / director Boaz Yakin and three featurettes: "Cracking Safe," "Criminal Battleground," and "The Art of the Gunfight." The Blu-ray also features a bonus digital copy (which works with iTunes) and an Ultraviolet digital copy for download and instant streaming.
Also available on digital download and On Demand.
See the trailer after the jump. Click on "More" below.
For more releases, see Hot Tips and Top Picks: DVDs, Blu-rays and streaming video for the week of September 4