FEATURED POST
Plus Pasolini's rare "La rabbia" and a new "Donnie Darko" edition
By 
SeanAx
 Jul 28, 2011 10:09AM
Jean-Pierre Melville's "Léon Morin, Priest," starring Jean-Paul Belmondo as an unconventional young priest and Emmanuelle Riva as an atheist attracted to his intelligence and his charms, is the director's second film about the life in France under Nazi occupation, and his most unusual. Videodrone's review is here. An all-star cast voices the goofy puppetry shenanigans of the World War II spoof "Jackboots on Whitehall" (New Video/Flatiron Films), an alternate history of England's ordeal starring doll-sized action figures who suit up to take on Hitler and his minions when they tunnel under the channel and capture London. Videodrone's review is here.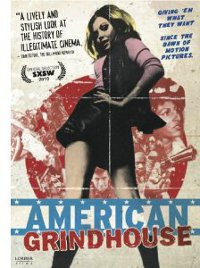 "American Grindhouse" (Kino Lorber) colorfully (if a little too quickly) chronicles the history of American exploitation cinema, from the silent days to the present, from the big studios to the maverick independents and shameless hucksters creating their own niche in the margins of the industry. Director Elijah Drenner and co-writer Calum Waddell are obviously fans and clearly enjoy this opportunity to talk with such cult filmmakers as Jack Hill, Herschell Gordon Lewis and Ted V. Mikels (among many others). They bring in expert voices (a shout-out to my MSN colleague Kim Morgan and to Czar of Noir Eddie Muller!) and lots of quick-cut clips and whip through a dozen or so genres (gore cinema, sexploitation, women-in-prison and so on) with a hit-and-run sensibility. Which makes for an entertaining introduction that whets your appetite for more but doesn't  really offer anything that hasn't already been explored in more depth elsewhere. What it does offer is showmanship, which alone would justify it.
Robert Forster narrates and the disc includes plenty of bonus scenes and extended interviews, plus the featurette "Feel the Good," which isn't so much a making-of as breezy scrapbook of their journey, with clips of unused interview footage that reflects the atmosphere of the production. The disc comes out this week individually and in a two-disc set with the documentary Nightmares in Red, White and Blue (Kino Lorber).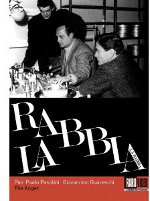 "La Rabbia (The Anger)" (Raro Video) is a rarity from Italian directors Pier Paolo Pasolini and Giovannino Guareschi, less a documentary than an essay film in two parts with two diametrically opposed approaches to a question posed in the opening scenes: "Why is our life dominated by discontent, by anguish, by the fear of war, by war?" That question begins both sections of this "film in two parts," which tackles the same general history with the same raw material (archival newsreel footage, newspaper and magazine clippings, photos and works of art) and, in many cases, the same subjects, but with radically different approaches. Pasolini offers a poetic meditation on the march of history as third world nations and "people of color" through a Marxist ideology, writing his political anthem in verse and embracing art and religion as well as politics as the hope of the future, while Guareschi's contribution is an often grotesquely satirical piece grounded in the anxiety of white European power at the mercy of the ungrateful nations of Africa, Asia and South America. It's not hard to see why Pasolini was so appalled.
It's quite a time capsule, a dated political text and a minor Pasolini production, but if you're interested in the director or the politics of the era, it's an interesting artifact with excellent supplements: a well-made documentary on the film's production and sudden disappearance, Pasolini's 1964 documentary short "The Walls of Sana'a" and four trailers, which are, in their own way, supplements to the movie.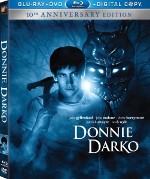 There's nothing actually new in "Donnie Darko: 10th Anniversary Edition" (Fox), the four-disc set that was officially unveiled at Comic-Con this year. The box office flop turned home video cult phenomenon is an amazing film and its DVD rediscovery inspired Kelly to revisit the film and restore scenes and ideas he cut to shorten and streamline the film for its original theatrical release. This edition features the original theatrical version on DVD and both the theatrical cut and the 2004 extended Director's Cut on Blu-ray, with three different commentary tracks, "The Donnie Darko Production Diary" (with its own commentary track) and all the featurettes and galleries of the various previous releases (on DVD only). What is new is a bonus digital copy of the film. It makes it a fine first-time buy it's up to you whether it is worth an upgrade.
Think of the violent Italian crime drama "Live Like a Cop Die Like a Man" (Raro Video) as an addendum to the company's Fernando di Leo box set. Though directed by Ruggero Deodato and considered one of the most violent action thrillers of the seventies, the screenplay is by di Leo. The disc features a 42-minute featurette and a booklet among the supplements.
The horrors, the horrors:
"Scream of the Banshee" (Lionsgate), which pits Lauren Holly and Lance Henricksen against the monster of Irish folklore, and "Goblin" (Lionsgate), a Halloween horror with Gil Bellows, are both SyFy Originals from the past year. "The Task" (Lionsgate) turns a reality show into a fatal ordeal. "The Puppet Monster Massacre" (MVD), a spoof of eighties monster movies with an all-hand puppet cast, takes things a little lighter. But it is still recommended for adults only.
And the rest:
"The Death of Andy Kaufman" (MVD) revisits the legacy of the legendary comic as a skewed mystery. "Lt. Dan Band: For the Common Good" (Lamplight Entertainment) follows Gary Sinise and his musical group as they perform for armed forces around the world. "Iran Darroudi: Painter of Ethereal Moments" (Pathfinder) is a profile of the contemporary Iranian artist.