FEATURED POST
Call this animated spaghetti western a chameleon out of water tale
"Rango" (Paramount)
Johnny Depp taps into his inner lizard for "Rango" (Paramount), voicing a pet chameleon with thespian ambitions who takes the role of sheriff in a desert town, only find that what he thought was on old Hollywood oater is actually a spaghetti western by way "Chinatown." It's the role of a lifetime for a loner who has done nothing but play heroes in his private plays, but this time he's set up to be the patsy.
See an MSN exclusive clip from the Blu-ray below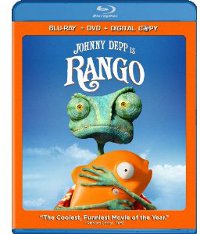 Gore Verbinski, who directed Depp in the first three "Pirates of the Caribbean" films, turned down the fourth to make this film, which he'd put on the backburner for years. It was the right call. This is a lot more fun.
It's also his animation debut and that gives him a different slant on things. He approaches animation like a live-action film and collaborated with digital effects guys from ILM studios, many of whom were also new to animation as animation (rather than digital effects). The results is something that looks and feels different from any other animated feature out, with desert realism and comic surrealism, incredible textural detail and oddball personality quirks. And while ostensibly a family film, this southwestern goof is really for really big kids with a love of movies, a sense of whimsy and a soft spot for the hideously gorgeous creatures of the desert.
""Rango" wears the genuine and personal quirkiness of its makers on its sleeve, while at the same time being pretty relaxed about the whole thing," affirms MSN film critic Glenn Kenny, who embraces it as "a fleet, quirky, computer-animated feature that I found ingenious, charming and almost entirely engaging."
Note that the film arrives in stores (or in the mail) on Friday, July 15
Features both the original theatrical version and an extended edition (which runs four minutes longer), the latter with very detailed commentary by director, story co-writer and producer Gore Verbinski (who sounds oddly like a Johnny Depp impression as he introduces himself) with head of story James Ward Byrkit, production designer Mark "Crash" McCreery, animation director Hal Hickel and visual effects supervisor Tim Alexander. There's also a featurette on the real animals that inspired the animated versions and ten deleted scenes that are incorporated in the extended edition, including the extended coda of the ending. Which means that, unlike the deleted scenes of most animated features, these are all finished shots.
The Blu-ray includes the two-part, 50-minute documentary "Breaking the Rules: Making Animation History," which is certainly family friendly but offers a more detailed and in-depth look at the production than most animated discs offer. "A Field Trip to Dirt" is an interactive features that allows you to explore the town and its characters, though it's designed more like a game than a gallery as you are left to stumble around and click to see what's what. It's a two-disc set and the second disc features bonus DVD and digital copy (of the theatrical version only).
MSN 'Rango' Exclusive: "Gore Verbinski on Western Shootouts"
Director Gore Verbinski weighs in on creating a western shootout. "Rango" is available on Blu-ray/DVD July 15, 2011.