FEATURED POST
Jason Statham takes over the Charles Bronson role in this remake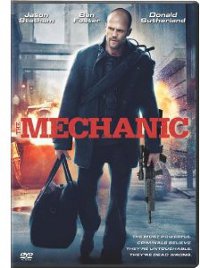 "The Mechanic" (Sony)
Jason Statham is the veteran hitman and Ben Foster his undisciplined protégé in the no-nonsense remake of the 1972 Charles Bronson action thriller. Arthur Bishop (Statham) specializes in assassinations that don't look like murder; he doesn't like to advertise his work that way. Steve McKenna (Foster), the bad-boy son of Arthur's mentor (Donald Sutherland), doesn't care if he draws attention to himself. In fact, he prefers to leave his victims as statements, which doesn't exactly make them a natural team. But then Arthur feels a debt toward Steve. After all, he did kill Steve's father. It was just another assignment and, by Arthur's code, a justified killing. But that doesn't mean it sits well with him.
Director Simon West has a track record for sloppy, silly action movies ("Con Air" anyone?) but perhaps his recent focus on TV has given him a better sense of discipline, which in this age of gratuitously outlandish action and confused spectacles of property damage is something of a lost art. Which doesn't necessarily make the pulp revenge drama of "The Mechanic" especially remarkable, but it is a minor pleasure to see an action film that makes a virtue of lean, mean action stripped to the essence.
MSN critic Glenn Kenny goes even farther in his review. "The Mechanic" is my kind of action movie: nasty, brutish, brisk and ass-kicking," he proclaims. "In fact, I'd go so far as to say that this remake… actually represents something of an improvement over the 1972 original."
What specifically makes it so good? "This movie is REALLY violent, in the tradition/vein that used to make an otherwise hardened 42nd Street audience shout at the screen, "Hey, man, did you have to hurt him so bad?" back in the day. Good-hearted people might deplore such ostentatious displays of tooth-rattling sadism, but I have to admit I kind of miss this kind of ruthlessly unapologetic and conscience-free mayhem."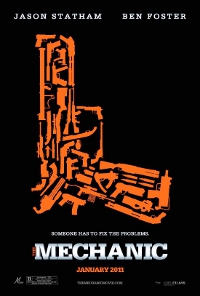 The supplements are slim. "Tools of the Trade: Inside the Action" is a seven-minute skip through the film's big action scenes, with quick behind the scenes clips and interview snippets with the stars discussing when they did their own stunts. The most interesting undercurrent is Ben Foster feeling the pressure to keep up with action vet Jason Statham. The "Deleted and Extended Scenes" gallery features an alternate version of the opening sequence and four extended scenes featuring material that was rightly cut. Not because it's bad (although some of it feels forced) but because it unnecessarily slows things down for no good reason. The Blu-ray also includes the BDLive MovieIQ option.
If anything really disappoints me, it's the choice to replace the muscular graphic-image poster of the original release with a generic cover that looks no more distinctive than your average direct-to-DVD action title.