FEATURED POST
Plus Woody Harrelson in 'Rampart,' Glenn Close in 'Albert Nobbs,' 'Norwegian Wood' from Japan, and more
"Chronicle" (Fox) brings the "found footage" aesthetic to the superhero / coming of age drama to observe that with great power sometimes comes great. Videodrone's review is here.
"The Grey" (Universal), Joe Carnahan's muscular survival thriller, drops Liam Neeson and a roughneck crew of oil drillers in the middle of the Alaskan wilderness and pits them against a pack of ravenous wolves.
""The Grey" represents a welcome change for director and co-writer Joe Carnahan, a filmmaker whose theatrical feature output has toggled all over the place, quality-wise, while staying firmly in the masculine realm, genre-wise," asserts MSN film critic Glenn Kenny. It "certainly doesn't lack for testosterone bluster -- the movie's got a practically all-male cast, after all. But the picture makes to examine that quality more than celebrate it, and also tries to come to terms with what one really needs, steely attitude aside, to survive in an environment in which literally everything is against you."
On Blu-ray and DVD, with commentary with co-writer/director Joe Carnahan and editors Roger Barton and Jason Hellmann and deleted scenes. The Blu-ray also features picture-in-picture comparisons of pre-visualization and storyboard images to select scenes and an Ultraviolet digital copy, for download and instant streaming. Also available On Demand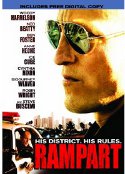 "Rampart" (Millennium) reunites director / writer Oren Moverman with his "The Messenger" star Woody Harrelson for a story of corruption in the post-Rampart scandal-rocked LAPD of 1999. Harrelson is a dinosaur, a relic of the bad old days still lumbering around on a force that keeps its distance from him (the stink of his legacy is just too dangerous in the culture of clean-up) and living as a kind of glorified guest with his two ex-wives (who are, in fact, sister) and two daughters. The script, originally written by James Ellroy and adapted by Moverman, gives Harrelson a rich role, a strangely entitled cop who believes the uniform gives him license to take out his vengeance on anyone who crosses him, and Harrelson he earned a Best Actor nomination at the Independent Spirit Awards for his captivating spiral into isolation and obsolescence. Robin Wright, Steve Buscemi, Sigourney Weaver, Ben Foster, Anne Heche, Ice Cube, Ned Beatty, Cynthia Nixon, and Brie Larson co-star. More reviews here.
Blu-ray and DVD, with director commentary, cast and crew interviews, and a featurette. Also available via digital download and On Demand, and at Redbox.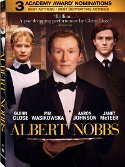 "Albert Nobbs" (Lionsgate) earned Oscar nominations for Glenn Close and Janet McTeer as women living their lives under the guise of as men to get better jobs in Victorian-era Ireland. Where Close's tightly-wound butler hides behind the costume, McTeer's handyman lets the public persona celebrate her personality. "Albert Nobbs is a quiet, minor-key work," writes Philadelphia Inquirer film critic Steven Rea. "The period finery is Masterpiece Classics-y, the parade of upper-crust and lower-tier eccentrics predictable. But Close's performance as this poor, wounded fellow resonates with depth and poignancy." Mia Wasikowska, Aaron Johnson, and Jonathan Rhys Meyers co-star and Rodrigo Garcia directs.
Blu-ray and DVD, with commentary by director Garcia and actress / producer Glenn Close and deleted scenes. Also available via digital download, and On Demand, and at Redbox.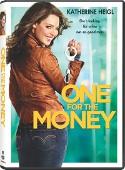 "One For the Money" (Lionsgate), adapted from the Janet Evanovich novel, casts rom-com stalwart Katherine Heigl as a rookie bounty hunter, disastrously so, according to the critical consensus. New York Times film critic A. O. Scott complains that the film "is so weary and uninspired that it feels more like an exhausted end than an energetic beginning." Jason O'Mara, Daniel Sunjata, Sherri Shepherd, and Debbie Reynolds co-star. On Blu-ray and DVD, with two featurettes, a deleted scene, and a gag reel. The Blu-ray edition also includes a digital copy for download via iTunes. Also available via digital download and On Demand, and at Redbox.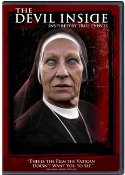 "The Devil Inside" (Paramount) is the other genre picture produced on the cheap in the "found footage" style of handheld video and you-are-there woozy camerawork, this one built around demonic possession and exorcism. Los Angeles Times film critic Mark Olsen pretty much captures the consensus when he describes it as "a horror film conceived on graph paper." On DVD, digital download, and On Demand, available at Redbox. A Blu-ray edition is available exclusively at Best Buy for a limited time.
"Golf in the Kingdom" (Flatiron) is based on Michael Murphy 1972 novel on the mystic glories of golf. "Everyone spouts nicely turned baloney elevating golf to the level of a religious experience, which grows tedious fairly quickly," warns New York Times film critic Neil Genzlinger. DVD, with cast interviews and a featurette, and digital download.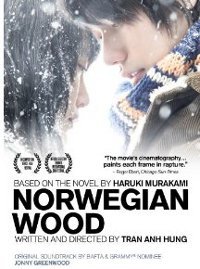 Foreign Affairs:
"Norwegian Wood" (New Video) is quite the international affair: directed and adapted by French-Vietnamese filmmaker Tran Anh-hung from the novel by Murakami Haruki (itself named after a Beatles song), with a Japanese cast, cinematography by Hou Hsiao-hsien favorite Mark Lee Ping-bin from Taiwan, songs by Can and a hushed score by Radiohead's Jonny Greenwood.
Set in late sixties Tokyo, where student protests erupt on college campuses and sexual liberation is in the air, this is a story of disconnection in a time of engagement, with a student (Ken'ichi Matsuyama) escaping into books after his best friend's suicide and the withdrawn and fragile girlfriend (Rinko Kikuchi) scarred by the suicide retreating into a secluded sanitarium. Matsuyama plays the part as if a spectator rather than a participant in his life, too afraid to engage after the pain of his friend's suicide. Except when he's around Naoko, whose vulnerability draws him out of his cocoon.
"Norwegian Wood" is suffused in melancholia, with imagery as delicate as the lives it presents and atmospheres so fragile they look like they'd shatter under too much emotional pressure. Tran's portrayal of the fragility of emotionally devastated teens and young adults afraid to open themselves up again makes for lonely portrait, more touching than engaging but masterfully painted throughout. More reviews here.
Japanese with English subtitles. The DVD features a detailed making of documentary that runs nearly an hour and a shorter piece on the premiere at the Venice Film Festival. Also available via digital download.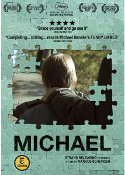 "Michael" (Strand) is a meek insurance agent who happens to be a pedophile with a ten-year-old boy locked up in his basement in this queasy drama from Austrian director Markus Schleinzer. Chicago Sun-Times film critic Roger Ebert warns that "Michael doesn't set up big drama or punch up big moments. It ambles." There is no explicit violence or sexuality in the film, but it is still for mature audiences. German with English subtitles. DVD only.
"Street Days" (Global Film Initiative), a crime thriller set in the economic instability of post-Soviet Georgia, and "The Tenants" (Global Film Initiative), about the street violence in a working class neighborhood in Brazil's Sao Paulo, are the newest additions to the Global Lens Collection. The former in Georgian with English subtitles, the latter in Portuguese with English subtitles. Both DVD only.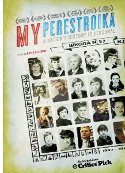 True Stories:
"My Perestroika" (Docurama) offers a first-person history of the tectonic changes in Russian society from five people who were schoolmates when Perestroika changed everything. ""My Perestroika" gives you a privileged sense of learning the history of a place not from a book but from the people who lived it," praises New York Times film critic Stephen Holden. "Watching it is a little like attending a party in an unfamiliar city and discovering the place's secrets from the guests." The DVD features an hour of deleted scenes and interviews. Also available via digital download.
"We Were Here" (Docurama) offers a personal history lesson closer to home: the arrival and impact of AIDS in San Francisco. "An extraordinarily moving examination of how the AIDS epidemic both devastated and transformed San Francisco's gay community, this clear-eyed and soulful documentary brings us inside the contagion in a way that is so intimate, so personal, you feel like you're hearing about these catastrophic events for the first time," writes Los Angeles Times film critic Kenneth Turan. The DVD features an interview with filmmaker David Weissman and HIV public service announcements from the 1990s. Also available via digital download.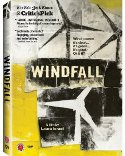 "Windfall" (First Run) looks at some of the unexpected controversies to arise from the installation of wind farms. Salon.com film critic Andrew O'Hehir writes that Laura Israel's documentary is "a tantalizing case study that suggests ordinary people still have the power to steer a course between faceless bureaucracies and greedy capitalists, but only just - and only if they can find a way to overcome their differences and work together." DVD only, with bonus footage and interviews and a resource guide.
"The Pruitt-Igoe Myth" (First Run) looks at the heralded 1956 public housing project that became a symbol of urban disaster in St. Louis. Reviews here. DVD only, with commentary, additional interviews, and the archival documentary short "More Than One Thing" from 1969.
"Man on a Mission" (First Run) is Richard Garriott, the gaming millionaire who bought a seat on a Russian Soyuz rocket. Reviews here. DVD only, with the short film "Apogee of Fear" (which was filmed in space) and bonus featurettes.
"Something Ventured" (Zeitgeist) explores the history and business of venture capitalism. Reviews here. DVD and digital download.
"Dragonslayer" (First Run), about skateboarder Josh "Skreech" Sandoval, won the Grand Jury Prize for Best Documentary at SXSW 2011. Reviews here. DVD only.
For more releases, see Hot Tips and Top Picks: DVDs, Blu-rays and streaming video for May 15