FEATURED POST
Plus Italian classics, Australian TV, cult oddities, and more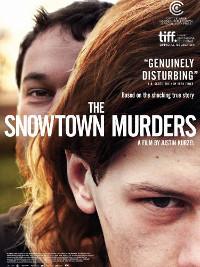 "The Snowtown Murders" (2011), from director Justin Kurzel, fictionalizes the true story of Australia's worst serial killer, John Bunting. "Kurzel aims, with mixed success, to visualize the kind of wilderness that breeds a Bunting," writes MSN film critic Kat Murphy. "Painting, in leached-out color, an environment of such material drear and communal despair that the advent of a merry little serial killer brings perverse life to the party, Kurzel suggests that "Snowtown"'s repressed/oppressed community may have dreamed up their own monster."
"Night Train" (2009), a low budget thriller of three strangers (Danny Glover,  Leelee Sobieski and Steve Zahn) on a train and a treasure so enticing that they will kill for it, begins as a rolling "Shallow Grave" and turns into a vaguely continental "Maltese Falcon" in a Twilight Zone winter storm. The CG shots of the train and the cast of foreign characters (including a British police detective) with movie-reference names only adds to the confusion. The ferocity of the characters is fun but the weird mix of crime movie obsession and supernatural possession is B-movie mess.
"Post Mortem" (2010) Pablo Larrain's follow-up to his harrowing "Tony Manero," follows the quiet breakdown of a lonely autopsy scribe in Chile during the 1973 military coup. "With its pale, washed-out colour palette, its eerily slow, almost somnambulist pacing and occasionally bizarre emotional demonstrations, "Post Mortem" is strangely gripping," praises The Guardian film critic Peter Bradshaw. Spanish with English subtitles. Reviews here.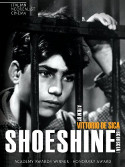 Vittorio de Sica's "Shoeshine" (1946), made two years before his legendary "Bicycle Thieves," looks at the poverty and chaos of Italy after the war through the stories of two boys scraping by shining the shoes of American GIs until they are arrested for a petty crime and tossed into prison, where their spirits and souls are ground down. Like the other defining films of the era, it was shot on the streets of postwar Rome with nonprofessional actors and it won an Honorary Academy Award in 1948 (before there was a Foreign Language Film category).
Federico Fellini's "The Clowns" ("I Clowns," 1970) is a first-person exploration / appreciation of the art and culture of clowns made with the usual indulgence of its director. Reviewing the film in 1971, Roger Ebert wrote of this mix of fact and fancy: "This is artful and sometimes very amusing, but it doesn't work as fiction because Fellini is tied to facts, and it doesn't work as documentary because Fellini will not (cannot?) abandon his gift of giving the raw material an artistic shape."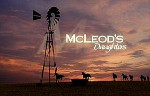 Instant TV:
"McLeod's Daughters: Seasons 1-8" (2001-2008), a femme-centered frontier drama set on the Australian outback, begins with half-sisters Claire (Lisa Chappell), an independent country girl, and Tess (Bridie Carter), a vivacious urban woman, reunited when they inherit Drover's Run, a large Australian cattle ranch passed down for generations. The women put aside their differences and assemble an all female workforce to take on the challenges of the land. The hit Australian drama found a stateside following when the American cable channel WE (Women's Entertainment Television) imported it for a successful run.
From Britain comes "Bramwell: Seasons 1-4" (1995-1998), starring Jemma Redgrave as a woman in late 19th Century England who defies convention and the disapproval of an all-male medical profession to create a safer, more compassionate hospital. It was a hit in the nineties when it played stateside on "Masterpiece Theater."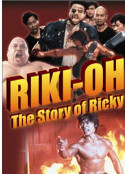 Instant Cult:
"Riki-Oh: The Story of Ricky" (1991), a Japan/Hong Kong co-production, is a cult film that well deserves its reputation: this violent prison drama jerks and lurches it's way through the most audacious, excessive gore you've ever seen. Fists rupture flesh, leaving gaping holes in bodies and squashing skulls like ripe cantaloupes. Bones snap and skulls crack (with X-ray replays just to prove it). One prisoners slashes his stomach and grabs his own intestines to strangle an opponent. The absurd melodrama is bluntly directed and archly performed, but the non-stop display of mortal destruction tops itself by the minute with jaw dropping outrageousness. You know you want to see it.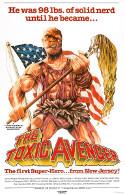 And along the same lines but with an American sensibility of excess and gleeful bad taste, a collection of films from Troma were recently added to the Netflix Instant catalog. "The Toxic Avenger" (1984) is the company poster boy and the success on which the modern company is built, a putrid, pure-hearted mutant ogre in a tutu who declares war on polluters, bullies, and any bad guy who dares cross his path with his trusty mop and sheer brute force. The humor is not merely sophomoric and silly, it's aggressively so, and the bargain basement gore effects are over-the-top and excessive. If you don't find the sight of fakey dismembered limbs and gut-busting explosions of fake intestines funny, then this is certainly not the film for you. And if you do, the sequels merely up the ante, and you're in luck because "Part 2" (1989) "Part 3: The Last Temptation of Toxie" (19689), and "Citizen Toxie: The Toxic Avenger IV" (2000) are also all available. Let the radioactive revenge begin.
Also available from the Troma library: "Tromeo & Juliet" (1995), co-written by future indie director James Gunn, "Surf Nazis Must Die" (1987), and "Sgt. Kabukiman, N.Y.P.D." (1996).
Previous Netflix Instant recommendations here.
For more releases, see Hot Tips and Top Picks: DVDs, Blu-rays and streaming video for week of August 28