FEATURED POST
Plus 'Ella Enchanted,' 'A League of Their Own,' 'The Funhouse,' and more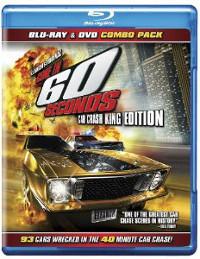 "Looney Tunes Platinum Collection, Volume Two" (Warner) follows up Volume One with the HD debut some of the best Warner Bros. cartoons (including Chuck Jones' "Hunting Trilogy" with Bug Bunny and Elmer Fudd, plus early appearances, rarities, oddball supporting characters, one-shots, and some non-Warner cartoons by Tex Avery and Friz Freleng. 50 animated shorts, plus featurettes, interviews, and commentary, on three discs. Also available on two-disc DVD without many of the extras. Videodrone's review is here.
"Gone in 60 Seconds" (Halicki Films) is the ultimate drive-in car chase movie. If that sounds like a backhanded compliment, then you don't know the sheer visceral thrill of a great car crunching, tire squealing, speed demon piece of auto outlaw cinema. Writer / producer / director / star / stunt driver H.B. Halicki is all thumbs when it comes to directing his non-professional cast, but he's a natural performer and has a confident efficiency in showing the mechanics of the car theft biz. All that, of course, is mere framework for the film's famous 40-minute car chase finale as his vehicle, a souped-up yellow 1973 Ford Mustang Mach 1 named Eleanor, gets banged, bashed and smashed into a crinkled wreck. It's a masterpiece of stunt driving, driver's seat photography, and sharp, spirited editing, and more fun than it has any right to be.
The new Blu-ray+DVD Combo Pack features the revved up sound design and new score added to the 2000 DVD and the supplements of both DVD special editions: a laid-back, homey commentary with editor Warner Leighton and cinematographer Jack Vacek (who are especially helpful in pointing out where mishaps and real accidents were incorporated into the finished film), a 45-minute documentary on H.B. "Toby" Halicki" originally made for the Speed channel, three featurettes on Halicki's subsequent films (both completed and unfinished), interviews with Denise Halicki (from the set of the 2000 remake of "Gone in 60 Seconds") and Lee Iacocca, and more.
MSN is also sponsoring a poster giveaway: Halicki Films is offering two original 1974 movie posters of the film. Read on for details on how to enter.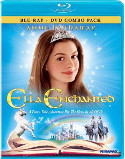 "Ella Enchanted" (Lionsgate) stars Anne Hathaway as a different kind of Cinderella in a playful twist on the fairy tale that both spoofs it while retelling it from a fresh angle. The cartoonish sight gags (from wooden escalators at the local medieval mall to Gothic fast food) were old when "The Flintstones" first tossed them out in the sixties, but there's an unabashed charm in Hathaway's sweet and spunky performance and a rejuvenating energy unleashed in a pair of bright musical numbers. Viveca A. Fox co-stars as a fairy godmother in serious danger of a malpractice suit, Joanna Lumley is the snotty, social-climbing step-mother, and Hugh Dancy is the film's Prince Charmont, a reluctant feudal pin-up who sends the maidens swooning. With commentary, featurettes, and deleted scenes.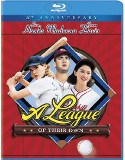 In the 1992 "A League of Their Own" (Sony), Geena Davis and Lori Petty play feisty sisters recruited for the All-American Girls Baseball League, the real life, short-lived professional league created during WWII while the male baseball players were overseas. Tom Hanks actually gets top billing as the washed up former pro player turned coach who is won over by his team, but the film belongs to heavy-hitter Davis. Madonna and Rosie O'Donnell co-star as smart-talking teammates and Jon Lovitz practically steals the film in a few scenes as a sarcastic scout. With commentary by director Penny Marshall and cast members Lori Petty, Negan Cavanagh and Tracy Reiner, 15 deleted scenes with optional commentary by Marshall, the featurette "Nine Memorable Innings" among the supplements. An Amazon Exclusive.
"The Funhouse" (Shout! Factory) is Tobe Hooper's enjoyable sideshow horror about a group of teenagers (Elizabeth Berridge, Cooper Huckabee, Largo Woodruff, and Miles Chapin) terrorized by a misshapen killer in a carnival. It's an utterly conventional story, but Hooper pulls off the mood, the scares, and the weird grotesqueness with professionalism above and beyond the call of the material. Kevin Conway is especially memorable as the bizarre barker and Sylvia Miles co-stars. With commentary by Tobe Hooper and interviews with producer Mark L. Lest, composer John Beal, and actor William Finley.
Plus:
"Pete's Dragon" (Disney), Disney's 1977 fantasy that mixes animation and live action for a story about an orphan with a friendly dragon as a best friend. Helen Reddy, Jim Dale, Mickey Rooney, Red Buttons, and Shelley Winters star, and the Combo Pack includes a featurette and other supplements, plus a bonus DVD version.
- "Terror Train" (Shout! Factory), the 1979 horror with Jamie Lee Curtis, Ben Johnson, Hart Bochner, and David Copperfield, directed by future Bond helmer Roger Spottiswoode. With a DVD copy and a collection of interviews.
- "Everybody's Fine" (Lionsgate) stars Robert DeNiro as a widower trying to reconnect with his grown children (Drew Barrymore, Kate Beckinsale, Sam Rockwell).
- "Broadway: The American Musical" (PBS), the 2004 six-part documentary series on the history of the American art form hosted by Julie Andrews. With bonus performances and 3 hours of additional interviews.
For more releases, see Hot Tips and Top Picks: DVDs, Blu-rays and streaming video for week of October 16