FEATURED POST
Steven Soderbergh launches Gina Carano as a new action star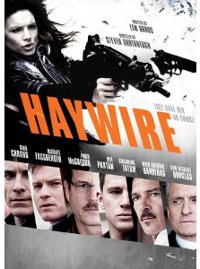 "Haywire" (Lionsgate) is Steven Soderbergh's drive-in assassin action movie by way of a sleek art-house conspiracy thriller. According to the director, the film sprung from his desire to develop a film around the talents and skill of mixed martial arts fighter Gina Carano, and the finished film -- which casts Carano as a covert agent in a shady private international agency that contracts out for government spy ops -- gives you no reason to assume otherwise.
Soderbergh's camera (he serves as his own cinematographer, under the pseudonym Peter Andrews) is focused on watching her in action and he designs her scenes to play out in long, unbroken cuts, paced at her reaction time. It's like watching a dancer in action, only her partners end up beaten and broken by the time she finishes her moves. There's a plot, of course, a meticulously constructed but still thoroughly conventional script by Lem Dobbs that involves outsourced international espionage, corrupt players, dirty tricks, and righteous vengeance, and gives accomplished supporting players Michael Fassbender, Ewan McGregor, Antonio Banderas, and Michael Douglas plenty of opportunity to play around in entertainingly stylized performances. Channing Tatum provides able (if colorless) support and Bill Paxton is her protective dad, thoroughly (and correctly) convinced that no one in her circle can be trusted.
It's not a knock to admit that Gina Carano is a limited actress, because her limitations still surpass those negligible talents of Steven Seagal, Steve Austin, Randy Couture, and most athletes and fighters gone big screen in recent decades. She plays the part close to the vest, making her inexpressiveness part of the character, but really we just wait for her to click back into fight mode. Her body language tells us more about her character than any dialogue exchange.
"In an age when filmmaking has made fake fighting too fake, "Haywire"'s grunting, gut-bruising fight scenes hit like, well, one of Carano's blows," concurs MSN film critic James Rocchi in his four star review. "As an actress, she's in the same boat as, for but one example, Dwayne "The Rock" Johnson: I wouldn't want to watch either of them take one of the lead roles in "Hamlet," but they're easy to watch, physically magnetic and possessed of a grace in action that one cannot shop for, study or steal."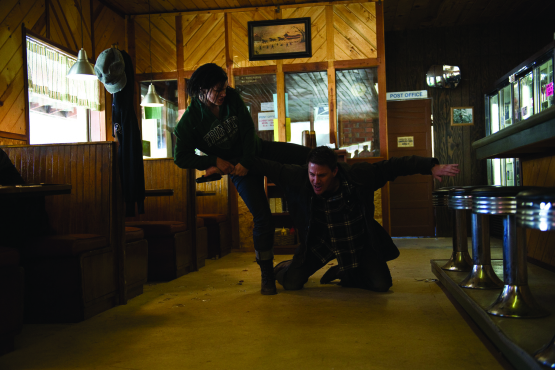 By the time its over, you may wonder if you've just seen the best direct-to-video action movie to ever hit the big screen or a Robert Rodriguez genre mix made with an unusual amount of discipline and attention to detail. Either way, it's an impressive mix of lean style, physical prowess, and wince-inducing fight scenes.
On Blu-ray and DVD with the featurettes "Gina Carino in Training," which profiles the film's kick-ass action lead and her preparations for the film, and the brief "The Men of Haywire." The Blu-ray also features a bonus digital copy, available via iTunes.
Also available via digital download and On Demand and at Redbox kiosks.
See a trailer below, after the "Read more" jump.
For more releases, see Hot Tips and Top Picks: DVDs, Blu-rays and streaming video for May 1