FEATURED POST
Plus Disney's 'The Great Mouse Detective,' the 1990 'Living Dead,' and more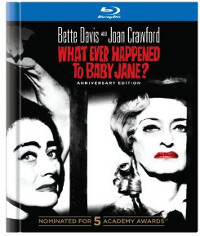 "E.T.: The Extraterrestrial – Anniversary Edition" (Universal) brings Steven Spielberg's suburban fairy tale for kids who think they are too hip to believe in fairies to Blu-ray in a director-approved edition. Videodrone's review is here.
"Dial M For Murder 3D" (Warner), which includes a standard Blu-ray version, and "Strangers on a Train" (Warner), one of Hitch's greatest films, also debut this week. Reviewed on Videodrone here.
"What Ever Happened to Baby Jane?" (Warner) – "You wouldn't be able to do these awful things to me if I weren't still in this chair." "But ya aaaahre, Blanche, ya aaaahre in that chair!" Old Hollywood divas and bitter rivals Bette Davis and Joan Crawford went head-to-head in Robert Aldrich's baroque horror. Davis is the demented Jane, a grotesque caricature who snarls her every line as she torments bedridden sister Blanche (Crawford), a former star now a helpless victim of sibling rivalry. They do their damnedest to upstage one another in the twisted grand guingol spectacle and in the process elevate the gothic shocker to freak-show cult classic. Davis earned her 10th Academy Award nomination, which only added fuel to the feud. Victor Buono co-stars as a hack accompanist hired by Jane to rehearse her comeback (complete with blonde curls and frilly baby-doll dress) in a scene of self-delusion almost as horrific as the meals she serves Blanche. A warning: you may never shake the song "Letter to Daddy" out of your mind.
Features the supplements of the previous special edition DVD: commentary by author and film historian Charles Busch and film historian John Epperson (a/k/a "Lypsinka"), the making-of featurette "Bette and Joan: Blind Ambition," TV documentaries "All About Bette" (hosted by Jodie Foster) and "Film Profile: Joan Crawford" (a BBC production from 1967), the vintage featurette "Behind the Scenes with Baby Jane," and a 1962 episode of "The Andy Williams Show" with Bette Davis.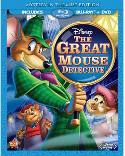 "The Great Mouse Detective: Mystery in the Mist Edition" (Disney), Disney's 1986 animated mystery, follows the adventures of Basil, the mouse who lived under the Baker Street home of the great Sherlock Holmes, and his battle with crimelord Professor Rattigan (voiced with a cackle by Vincent Price), an underworld rat with visions of mouse domination. Bouncy and bright and energetic, this lighthearted adventure was the first Disney feature to marry traditional cel animation with computer generated backgrounds (for the climactic chase through the gears of Big Ben). But in the best Disney tradition, it's the characters (from script to voice to the wonderful character animation) that make this spirited mystery so much fun. Features the eight-minute "The Making Of The Great Mouse Detective," a set-top game, a sing-along, and a bonus DVD edition.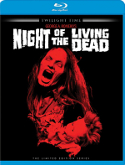 George Romero produced but does not direct the 1990 remake "Night of the Living Dead" (Twilight Time), a perfectly respectable reworking of the original film in color and the directorial debut of Romero's great special effects man Tom Savini. Tony Todd stars in this and Patricia Tallman plays Barbara, who in this version is jolted out of her state of shock takes up arms with a satisfying ferocity. The transfer of this film is almost as controversial as the errors that delayed the Hitchcock box, with many fans upset that it looks so different from the 1999 DVD  release, but director Tom Savini signed off on this one and stands by the look. Features commentary by director Tom Savini, isolated score track, and a booklet with notes by Julie Kirgo.
"Enemy Mine" (Twilight Time), directed by Wolfgang Petersen, is a science fiction drama about two warring soldiers – human Dennis Quaid and reptilian Louis Gossett Jr.) stranded together on a desolate planet and forced to become allies to survive the hostile environment. It's like a space-age remake of "Hell in the Pacific," but with a few distinct twists of its own. Features an isolated audio track with the Maurice Jarre score and a booklet with notes by Julie Kirgo.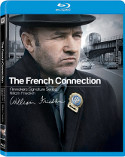 Plus:
Fox repackages two of its most acclaimed films on Blu-ray – "The French Connection" (with a corrected transfer overseen by cinematographer Owen Roizman with director William Friedkin) and "Wall Street" – in its new "Filmmakers Signature Series" line, which also features the Blu-ray debut of four other films. (They all came out in September but the discs just arrived this week.)
New to Blu comes to films from Danny DeVito: "The War of the Roses" (Fox), his black comedy about a divorce turned brutal civil war that reunites Michael Douglas and Kathleen Turner with DeVito (the trio from "Romancing the Stone"), and "Hoffa" (Fox), his epic biopic starring Jack Nicholson as Jimmy Hoffa, the infamous labor organizer whose disappearance is still an unsolved mystery. Both feature commentary, deleted scenes, interviews, and other supplements.  And the first two films from director / writer / actor Edward Burns, "The Brothers McMullen" (Fox) and "She's the One" (Fox), both arrive with filmmaker commentary and a featurette on each disc.
For more releases, see Hot Tips and Top Picks: DVDs, Blu-rays and streaming video for week  of October 9