FEATURED POST
Juliette Binoche is sublime in this meditation on art and life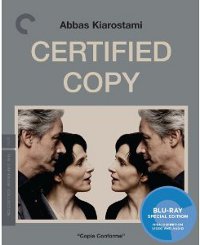 The "Certified Copy" (Criterion) of Iranian master Abbas Kiarostami's first European production refers to artworks – Why do we value a reproduction less than an original and what does authenticity even mean? – but resonates just as effectively with the art of filmmaking and its relationship to reproduction and recreation. "It's our perception that gives it value," to quote a debate in the film, and Kiarostami plays with our perceptions in playful and provocative ways.
Kiarostami's first film made outside of Iran is a truly cosmopolitan affair: a goddess of a French leading lady (Juliette Binoche), a British opera singer (William Shimell) as his leading man, an Italian location and crew and a meandering conversation that slips between English, French and Italian. Binoche's antiques dealer and single mother (she's never called by name in the film and is identified as "Elle" in the credits, which in French means "she") arranges a kind of date with the assured, unflappable author, driving him through the alleys of her small town (the river of brick and sky rolling across her windshield is both a sublime image and gorgeous metaphor for the gulf between the two) through the countryside to a nearby village to view an "original copy" as they debate the meaning of authenticity. As she spars and flirts with the charming but distant author over an afternoon in a lovely rural Italian village, Kiarostami shifts the ground from under us.
Imagine a cinematic equivalent of a Picasso cubist portrait, but instead of showing multiple perspectives of an object in an image, it presents experiences from different periods in a life in a single narrative. This first date segues into a longtime marriage and the philosophical arguments become long-standing personal issues built up over years of marriage. The breathtaking tectonic shift is all the more impressive by the subtlety and slyness of the transition, played out in long takes and the easy rhythms Kiarostami's style of heightened naturalism. What could have been a neat trick or a modernist exercise is given resonance by the rich pageant of experience onscreen – a parade of hopeful young newlyweds and stooped old married couples continue their life story in both directions by proxy – and by the vibrant and fluid emotional life churning in Binoche's performance.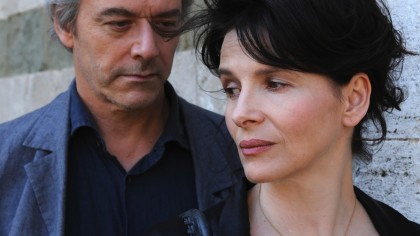 Beautiful and painful and mysterious and strangely real, this is no copy of life as we view, certified or not, but it is alive and profound and authentic. More from MSN film critic Glenn Kenny.
The film is beautifully mastered for both Blu-ray and DVD editions. Both feature the rare 1977 Kairostami film "The Report," his second feature, mastered the only surviving print (which is in poor shape), the well-made 52-minute Italian documentary "Let's See Certified Copy," and a new 16-minute interview with Abbas Kiarostami, conducted in Paris in 2012 for this release. The accompanying 22-page booklet features an insightful essay by film critic Godfrey Cheshire.
See a clip of Kiarostami discussing ideas of love and misunderstanding below.
For more releases, see Hot Tips and Top Picks: DVDs, Blu-rays and streaming video for May 22