FEATURED POST
Charlton Heston and Barbara Stanwyck set up their spin-off, 'The Colbys,' in this season of the prime time soap opera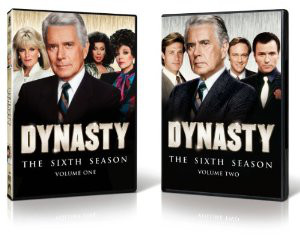 "Dynasty: The Sixth Season" (Volumes 1 & 2) (Paramount) – John Forsythe is Denver oil magnate and family patriarch Blake Carrington, Linda Evans his loyal wife Krystle, and Joan Collins his bitchy, conniving ex-wife Alexis in the glitzy nighttime soap of dirty dealing, illicit affairs, backroom conspiracies, hissing spats, and hair-pulling catfights, all of it tastefully garish and elegantly outré.

This show differentiated itself from "Dallas," the juggernaut of prime time glossy soaps, by going for the full throttle melodrama of the rich and famous and (in this season) royal: Blake's daughter Amanda (Catherine Oxenberg) marries the Prince of Moldavia (Michael Praed), and this season opens in the aftermath of a very dramatic wedding interrupted by an untimely and very rude revolution that deposes the royal family, holds Blake and party hostage, and even tosses Krystle and Alexis into the castle dungeon (giving Evans the opportunity to play damsel in distress and cry "Blake! Save me!"; clearly not the most empowering of shows).
By this season, only Pamela Bellwood and John James are left from the debut season supporting cast (and it's the last season for Bellwood at that). Emma Samms replaced Pamela Sue Martin as Fallon a few seasons back, and Jack Coleman takes over from Al Corey as Steve, and Catherine Oxenberg, Heather Locklear, and Diahann Carroll co-star. It's not really my kind of show, but I got a kick out seeing young, pre-"Heroes" Jack Coleman as a rich young kid in a feathered haircut (what a nice looking boy!).
George Hamilton guest stars this season, teaming up with Heather Locklear in a scheme to kidnap Krystle and pass off cousin Rita in her place (both parts played by Linda Evans, of course), and Theodore Bikel picks up a paycheck guest starring as an opportunistic minister in Moldavia who switches allegiance in the revolution and battles the prince for control of the kingdom. It's all pretty silly and outrageously contrived, real soap opera stuff with better casts and budgets.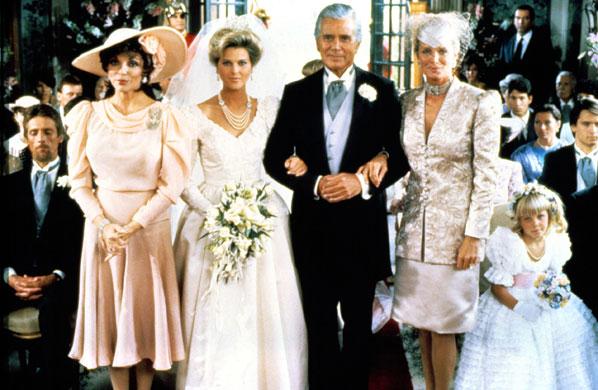 But the show's most star-studded story this season is all about launching a spin-off. Charlton Heston and Barbara Stanwyck guest star as Jason Colby and Constance Colby Patterson, Los Angeles rivals who try to lure Blake into a joint venture and then exit with a few cast member to launch their own short-lived series, "The Colbys." The roots of that show are sewn in the first few episodes of this season.
30 episodes on eight discs, divided up into two separate volumes. The Colby storyline is in "Volume One," but you can also get the entire season together in a two-pack. No supplements. Unless you count the awesomeness of Charlton Heston and Barbara Stanwyck. DVD only.
For more releases, see Hot Tips and Top Picks: DVDs, Blu-rays and streaming video for the week of July 3