FEATURED POST
Don Cheadle will do anything to get your business
By 
SeanAx
 Dec 17, 2012 11:36PM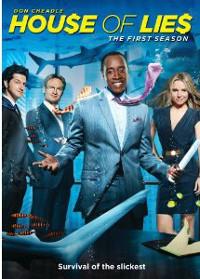 "You have to be willing to violate. Violate personal space, violate manners, violate the law, hell, violate every molecule so that all that is left is the yes."
There you have it, the philosophy of Marty Kaan (Don Cheadle), the proudly unscrupulous head of a management consultant team that flies around the country to sign new clients to the firm. They're called in to companies in crisis, but their end-game is to sign up long-term contracts for big bucks, and for that kind of business, they will do anything to land their client, from seduction to sedition. Even, if all else fails, tell the truth.
The show is ostensibly a satire of American corporate culture and business consultants, the highly-paid specialists called in to fix failing companies, rehabilitate reputations and brand names, and steer a course through rough waters during stormy crises. But, like a lot of Showtime half-hour shows, it's really just another frame around extreme characters who spend a season indulging in bad behavior with little remorse, and slipping into denial when it catches up with them.
Cheadle takes top honors in bad behavior in this show. A divorced dad raising (and often neglecting) a gay tweener son (Donis Leonard Jr.) with the help of his father (Glynn Turman), competing with his ex-wife (Dawn Olivieri) for clients as well as custody of their son, he manages to sleep with someone new practically every episode and sabotage romances and alliances will equal aplomb. His loyal team lieutenant Jeannie (Kristen Bell) is a mere amateur in such company, a beginner at self-delusion and self-loathing, but at least she's learning from a master.
It's Cheadle's show and it gives him plenty of time to showboat. That's not a knock on the series -- there are plenty of shows sustained on the strength of the personalities anchoring it and Cheadle is a performing very deserving of such a showcase -- but it is a recognition of its limitations. Cheadle is fun and at times so is the show, but it goes for familiar knocks on unethical acts in an amoral business culture rather than attempting something more complexity and interesting. The second season begins in January on Showtime.
12 episodes on two discs on DVD only, with cast and creator commentary on the first and final episodes of the season, plus short promotional featurettes on Don Cheadle, Kristin Bell, and others, and "E-Bridge" web-accessible bonus episodes of the first two episodes of both "The Borgias: Season Two" and "Dexter: Season Seven" (you need a DVD-ROM and a web connection for this).
For more releases, see Hot Tips and Top Picks: DVDs, Blu-rays and streaming video for week of December 18