FEATURED POST
William Friedkin directs a savage black comedy of family, murder, and the ties that bind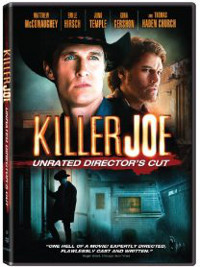 Matthew McConaughey is back in prime form as "Killer Joe" (Lionsgate), William Friedkin's southern-fried trailer-park noir with an undercurrent of black comedy.
Killer Joe Cooper is a Dallas homicide cop with a sideline as a killer for hire, and he's hired by Chris Smith (Emile Hirsch), a small time drug-dealer, to knock off his mother. It's not like she doesn't deserve it, mind you. This amoral creature left one child (Juno Temple as the dazed baby doll sister Dottie) brain damaged and Chris targeted for death by his cocaine supplier, after she stole his stash from under him. So it seems like a good idea at the time, considering her life insurance leaves everything to her kids. Of course, their plans hinge on a lot of suppositions that may not have any basis in reality.
McConaughey dirties up his easy charm, playing Joe oily and creepy and with an edge of menace. He's no genius but he's a lot smarter than anyone involved in this ill-conceived scheme, which includes Chris's slow-witted dad (Thomas Haden Church) and sleazy stepmom (Gina Gershon). And when the trailer park brain trust finds themselves short of funds to pay-off their hired gun, he just movies one in, taking Dottie as collateral and his place as the new family patriarch. It's just one big effed-up family.
"Killer Joe" is based on the play by Tracy Letts, whose play "Bug" Friedkin made into an underrated 2006 film with Michael Shannon and Ashley Judd. Like "Bug," this film is located in the fringes of behavior, where desperation and delusion trump common sense and social restraint.
It's brutal, violent, and at times savagely funny, a portrait of depraved lives so far over the edge of moral equilibrium they seem to have slipped into their own universe. And Friedkin doesn't shy away from the brutality, the sexual depravity, or the fantasy that any of these folks have any control over the futures. For a guy over 70 years old, he's pretty damn feisty.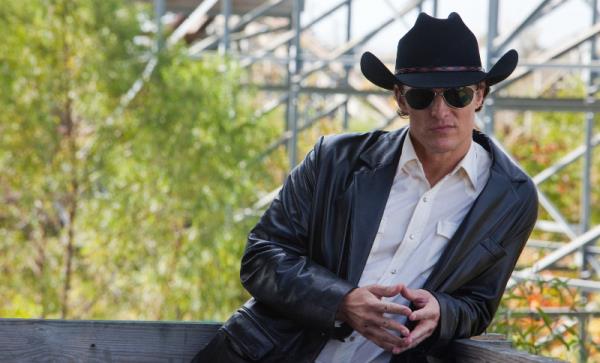 The film was cut to an R-rating for theatrical release. That's brutal enough, but you can also get the unrated director's cut that played film festivals on both Blu-ray and DVD. All editions include the featurette "Southern Fried Hospitality: From Stage to Screen," an introduction to the film and a cast Q&A recorded at the SXSW screening, and the Red Band trailer.
The unrated version of the film also includes commentary by director William Friedkin, who is always an entertaining guide.
Also available On Demand and at Redbox, all on Friday, December 21.
For more releases, see Hot Tips and Top Picks: DVDs, Blu-rays and streaming video for week of December 18