FEATURED POST
On the day the nominations are announced for 2011 movies, the first winner debuts on DVD and Blu-ray and MSN has an exclusive clip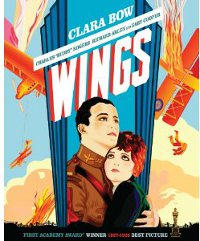 Clara Bow took top billing in the 1927 "Wings" (Paramount), the film that won the very first Academy Award for Best Picture, but the real star of this World War I drama is the amazing aerial spectacle: the dogfights in the sky over the battlefields.
See an exclusive clip from the disc below
The rest of the film, co-starring Charles "Buddy" Rogers and Richard Arlen (both virtual unknowns at the time) as buddies and fellow pilots, is sturdy studio filmmaking with romance, bonding under fire and rousing "war is hell" action. There's none of the seriousness or dramatic grace of King Vidor's earlier "The Big Parade," but director William Wellman, who was a World War I fighter pilot himself, invests us in the camaraderie of men in battle and especially the thrilling flight of the warriors. The magnificent dogfights, the sky swarming with planes, the downed ships spiraling down through the clouds with a tail of black smoke and yellow flame (color added like hand-tints of the time) were all staged and shot for real and the budget soared to $2 million, making it one of the most expensive films of its era. Wellman makes sure it's all there on the screen. It's a romanticized look at war, but it's also what Hollywood does best.
Paramount releases the film on DVD and Blu-ray (adding one more silent offering to the Blu-ray format) in a beautifully restored and newly remastered edition that preserves the texture of the photography, and offers a choice of two scores: a re-recorded score composed by J.S. Zamecnik, orchestrated and arranged by Dominik Hauser and performed by a small orchestra featuring pianist Frederick Hodges with sound effects (from roar of engines to the rat-tat-tat of machine-guns) by Ben Burtt (of "Star Wars" fame); and an archival pipe organ score composed and conducted by Gaylord Carter. The organ score is stereo, the orchestral offers a dynamic 5.1 surround option.
There are three featurettes on the disc. The longest, "Wings: Grandeur in the Sky," is more of a historical piece on filmmaking in the last silent era and runs under half-an-hour (see a clip from this piece below). Also includes "Restoring the Power and Beauty of Wings," a 15-minute piece on restoring and digitally mastering the film and recreating the store, and "Dogfight!," a 12-minute look at aerial battles on World War I. All of the supplements are presented in HD on the Blu-ray.
For more releases, see Hot Tips and Top Picks: DVDs, Blu-rays and streaming video for January 24