FEATURED POST
Britain Goes to War with an Army of Plastic Action Figures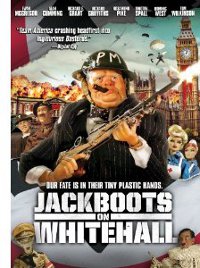 An all-star cast voices the goofy puppetry shenanigans of the World War II spoof "Jackboots on Whitehall" (New Video/Flatiron Films).
In this alternate history of England's ordeal, doll-sized action figures suit up to take on Hitler and his minions when then tunnel under the channel and capture London. It's been described as the twisted flip side of "Inglourious Basterds" by way of "Team America," without the marionette strings. Rather, writer/director team Edward McHenry and Rory McHenry manipulate the dolls out of frame and add a CGI assist for the mouth and eye movements. Because of the "real time" animation (as opposed to stop-motion), the filmmakers are able to punctuate the action with real smoke, fog and fire. And yes, they love to light up a scene.
There's a temptation to call it "Team Britain," but in fact the ragtag force of heroes, led by an earnest, patriotic farmboy with freakishly large hands (voiced by Ewan McGregor) and a Moses-like origin story, include a wise-cracking American flier who can't tell the commies from the Nazis, a seductive (and incomprehensible) French resistance fighter perpetually surrounded by babes, a sneering bishop with a Barbie doll of a daughter, doddering old men, a platoon of FANYs (this film's answer to the WACs, with a name that's much funnier to say aloud) and hordes of barbarian Scots who haven't evolved from their "Braveheart" days.
Needless to say, the film runs rampant through every cliché imaginable, and not just the war movie bits. Every cultural and national stereotype is pushed to the absurd extremes with gusto and the actors are given free reign to go for broke. The filmmakers match them with crazy warfare overkill. The climactic battle is complete medieval mayhem. And it's pretty funny to boot.
The voice cast includes Rosamund Pike, Richard E. Grant, Timothy Spall (as Churchill, a part he "reprises" in "The King's Speech"), Tom Wilkinson, Alan Cumming (as Hitler) and Dominic West. The DVD features over an hour of bonus interviews and behind-the-scenes footage, some of it pretty low fidelity but adequate for the purposes of the disc.