FEATURED POST
Plus 'Pearls of the Czech New Wave,' DeMille's 'Buccaneer,' 'Girl on a Motorcycle' and more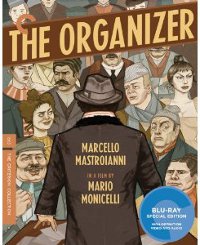 "The Organizer" (Criterion), a portrait of a labor walkout in a textile mill in late 19th Century Turin, is both a provocative portrait of social action and a rich, compassionate story of a community struggling to hold together to get the smallest of concessions from an employer that demands 14-hour days for a wage that keeps them all in poverty. The story of a labor strike among the socially tight but politically disorganized community to textile workers in a mill outside of Turin in the late 1800s, this is not a political statement nor a social protest. It is lively, funny, chaotic, appreciative of the foibles and failures of the frustrated collective that hasn't any faith in their power to effect change.
Marcello Mastroianni plays against type as a threadbare intellectual and labor activist whose idealism keeps running into reality. Warm, modest, passionate in his conviction and sincere in his actions, the Professor is an idealist with a practical side, whether he's rousing a deflated collective to hold out or scrounging for a meal. Even under a scraggly, unwashed beard and patchy clothes, he has an easy dignity and the comportment of a gentleman. But while Mastroianni is the lead, he's also an outside to the rich community that director Mario Monicelli creates through the dynamic collection of characters and the density of physical detail, from the chilly, overcrowded homes (morning begins by chipping a layer of ice form the pitcher holding their washing water) to the thrum of rows upon rows of clattering looms in a suffocating, steam-powered factory. The seriousness of the drama is buoyed by wonderful comic streak running underneath, not as satire but as simply human comedy in a tough world. It only makes the tragic dimensions more resonant, right down to the resignation of the final image, while still holding out some hope for next time.
On Blu-ray and DVD, with a video introduction by director Mario Monicelli recorded in 2006, and a fold-out booklet with an essay by J. Hoberman.
"Pearls Of The Czech New Wave (Eclipse Series 32)" (Criterion) collects six stand-out films from Czechoslovakia in the late 1960s, when a brief period of relaxed censorship inspired creative and satirical films from young directors. The collection gets its name from the omnibus film "Pearls of the Deep" (1966), featuring adaptations of the short stories of Bohumil Hrabal by five young directors: Věra Chytilová, Jaromil Jireš, Jiří Menzel, Jan Němec, and Evald Schorm. The four-disc set is filled out with one feature from each of these directors.
Jiří Menzel's "Capricious Summer" (1968) is a whimsical comedy about three bored men in a run-down vacation town who fall for a buxom young beauty who arrives with a geeky young tightrope performer and would-be magician in shabby tights. The title refers as much to the capricious weather, where rains constantly erupt from seemingly clear skies, as to the behavior of the old men emboldened by later onset spring fever.
Jaromil Jireš collaborates with Milan Kundera on "The Joke" (1969), based on Kundera's savage novel about the intolerant climate of the late 1940s and early 1950s. "Remember the good old days?" reminisces the once idealistic Jana Ditetova to scientist Josef Somr, the former lover she thoughtlessly turned in to the student committee for smart-ass student cynicism and inadvertently subjected to six years of hell brutal prison life. This angry response to the vindictive early days of Czechoslovakia's communist dictatorship could only have been made in the Prague Spring, and it was immediately banned upon the Soviet invasion.
Věra Chytilová's "Daisies" (1966), a feminist farce about two uninhibited young women named Marie, Jan Němec's satirical "A Report on the Party and Guests" (1966), and Evald Schorm's "Return of the Prodigal Son" (1967) complete the collection. DVD only. No supplements beyond notes by Michael Koresky.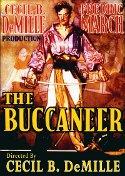 "The Buccaneer " (1938) (Olive) is the first version of the historical adventure / pirate movie starring Fredric March (in one of the worst French accents preserved on film) as Jean Lafitt, the flamboyant New Orleans pirate who fought on the side of General Andrew Jackson in the War of 1812. Cecil B. DeMille plays fast and loose with his history, as usual, but he also has more fun with the story than in many of his big historical spectacles, making Lafitte both a sly scoundrel with a brazen defiance of authority and a patriot who sides with the Americans against the British even though they have put a price on his head. It's a paean to the multicultural collection of characters who make up the American melting pot, including Akim Tamiroff's lovable, loyal rogue of a second-in-command to Lafitte and Walter Brennan as Jackson's buckskin-clad aide-de-camp. DeMille's films had a tendency to get bloated and starchy as his budgets and scope grew but this has a lively energy to it, making for one of DeMille's more rousing productions. The print shows some wear, mostly light vertical scratches, but no serious damage, and the sound is fine. No supplements.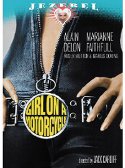 Marianne Faithfull is the "Girl on a Motorcycle" (Kino Lorber/Jezebel) in this psychedelic 1968 odyssey of one woman's sexual liberation. Most of the film plays out in flashback during her cycle ride across the French/German border to visit her lover (Alain Delon), a seductive professor of literature who offers extemporaneous lectures on free love. It's full of extended flashbacks, sexual fantasies, and kitschy psychedelic imagery (the screen turns purple and orange and green whenever she's making love with Delon, which has the unintended effect of turning sex into a bad psychedelic trip), with stream-of-consciousn​ess narration filling in the rest. The film was released in the U.S. under the title "Naked Under Leather," which is not particularly poetic but is accurate, as she notes more than once. Very much a product of its time, right down to the confused mix of both celebrating her sexual freedom and punishing her for it. Blu-ray and DVD, with commentary by director Jack Cardiff.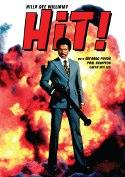 "Hit!" (Olive) stars Billy Dee Williams as an American agent on a private mission of revenge against a French heroine cartel with a civilian hit team. It's like an urban "The Dirty Dozen" reworking of "The French Connection" as an eccentric international heist film, complete with cross-cutting between the training stateside and the workings of the drug trade in Marseilles. The cover -- which features a very seventies Williams armed with a bazooka and photoshopped in front of a generic explosion -- might evoke thoughts of blaxploitation, but in fact it's a conventional version of the mainstream crime caper with a rare African-American lead, which is the film's only memorable accomplishment. Richard Pryor seems to be ad libbing much of his role as a maritime engineer and Gwen Welles brings a sad, soiled dignity as a junkie hooker, both members of a multi-cultural team that somehow ship out of Seattle by tugboat and end up in Marseilles in no time at all. Sidney J. Fury directs it without distinction, more concerned with timing of the hit-squad finale than actually building any tension. Blu-ray and DVD, no supplements.
"Lassiter" (Hen's Tooth) stars Tom Selleck as an American jewel thief in 1939 London, like an American James Bond as sophisticated cat burglar pressured to steal a fortune in diamonds held by the German Embassy and destined for the Third Reich. This feels like a consolation prize for Selleck after missing out on "Raiders of the Lost Ark," kind of fun but hardly distinctive or particularly memorable. Good supporting cast, though: Jane Seymour, Lauren Hutton, and Bob Hoskins. DVD only, no supplements.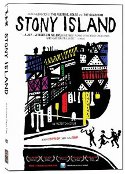 Plus:
"Stony Island" (Cinema Libre), the 1978 feature debut of director Andrew Davis, finds the future action specialist in a different mode: a drama about a group of Chicago musicians who put together an R&B band. The independent production stars Andrew's brother, Richie Davis, with musicians Gene 'Daddy G' Barge and David Sanborn  and supporting performances by unknowns Dennis Franz, Susanna Hoffs, Rae Dawn Chong, and Meshach Taylor. DVD only, with a featurette and an alternate ending.
"Badge 373" (Olive) stars Robert Duvall as a bruiser of an Irish cop who goes vigilante to avenge his partner's death after he's suspended. Pete Hamill scripts the 1973 cop drama. Blu-ray and DVD.
Charlton Heston is Buffalo Bill Cody in "Pony Express" (Olive), building the legendary (and short-lived) service across the western states with Wild Bill Hickok (Forrest Tucker) while California isolationists work to sabotage the line. DVD only. Another western, the 1959 "The Jayhawkers" (Olive) with Jeff Chandler and Fess Parker, also debuts this week on Blu-ray and DVD.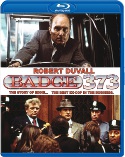 "Justine" (Kino Lorber), a British sexploitation version of the Marquis de Sade story with Koo Stark as the despoiled innocent, arrives on Blu-ray and DVD from Kino Lorber's Redemption line, with bonus interviews with director Chris Boger and screenwriter Ian Cullen. And from the Jezebel brand comes the double feature "Primitive London / London in the Raw" (Kino Lorber/Jezebel), a pair of Mondo-style sex tours of swinging sixties Britain from director Arnold L. Miller. DVD only.
"Marvel Animated Features: 3 Movie Collection" (Lionsgate) collects the direct-to-disc animated features "The Invincible Iron Man" (2007), "Planet Hulk" (2009), and "Doctor Strange" (2007). "Ultimate Avengers Movie Collection" (Lionsgate) presents "Ultimate Avengers" (2006) and "Ultimate Avengers 2" (2006) plus "Next Avengers: Heroes of Tomorrow" (2008) the teen version of the superhero team. Both on two DVDs (including a two-sided "flipper" disc).
For more releases, see Hot Tips and Top Picks: DVDs, Blu-rays and streaming video for April 24