FEATURED POST
Plus Criterion's 'Anatomy of a Murder,' the documentary 'Blank City' and more
By 
SeanAx
 Feb 23, 2012 11:43AM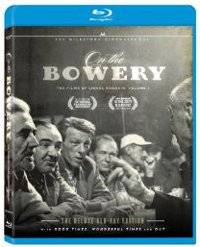 "World on a Wire" (Criterion), made by Rainer Werner Fassbinder in 1973 for German television, made its American debut in theaters in 2011. The virtual reality thriller – the first ever made, to best of my knowledge – now arrives on Blu-ray and DVD. Videodrone's review is here.
"On the Bowery" (Milestone), a 1956 mix of documentary and staged scenes shot on the streets and in the dive bars of New York's Bowery district, earned director Lionel Rogosin an Oscar nomination for Documentary Feature and has been selected for the National Film Registry by the Library of Congress. And yet it has not been available for years until it was restored and revived in 2011 by Milestone Films. Now the film debuts on Blu-ray and DVD in a volume subtitled "The Films of Lionel Rogosin, Volume 1) and featuring two other Rogosin films among the supplements.
"Shooting in vivid black-and-white, Rogosin and his cinematographer Richard Bagley find tough realities everywhere they turn: men drowning their sorrows in cheap muscatel and Sterno; getting into late-night brawls in bars with sawdust floors; lining up for beds at the Salvation Army dormitories and settling for newspaper mattresses in the basement," writes film critic Dennis Lim in the Los Angeles Times. "Rogosin's aim was precisely to show people and places that many of his viewers would have been aware of but might have preferred not to see. This comes across most palpably in the closing montage of weathered faces, staring implacably into the camera — it's a sequence that can only be called confrontational, but in the most humane sense of the word." More reviews can be found here.
Milestone's two-disc release features a new digital master of the restored film with an introduction by Martin Scorsese plus two additional films by Rogosin: the 1964 anti-war feature "Good Times, Wonderful Times" (mastered from the restoration by the Bologna Cinemateque) and the half-hour short "Out," a portrait of refugees fleeing the Hungarian Revolution of 1956 made for the United Nations. Lionel's son Michael Rogosin directs the 46-minute documentary "The Perfect Team: The Making of On The Bowery" and the 12-minute "A Walk Through the Bowery," which compares the locations then and now, plus the 24-minute "Man's Peril: The Making of Good Times, Wonderful Times," and there are two archival documentary shorts that show the Bowery in 1933 ("Street of Forgotten Men") and 1972 ("Bowery Men's Shelter"). This release also marks the debut Blu-ray release from Milestone and it's a beautiful disc. The film was shot independently over 50 years ago but the disc presents a sharp, fine image.
See the trailer below, after the jump.

Jimmy Stewart is country lawyer who takes the defense on a tricky murder case in "Anatomy of a Murder" (Criterion), a mesmerizing legal thriller that revels in the ambiguities of justice. Ben Gazzara (who passed away earlier this year) is the defendant, a hot-headed army officer arrested for murder, and Lee Remick, Arthur O'Connell and Eve Arden co-star, with rising star George C. Scott getting a "featuring" credit for a small role and a brilliant performance as a big-city attorney who steps in to take over the state's case late in the trial. Otto Preminger directs with a sharp clarity, remaining just slightly removed from the drama, the better to watch all sides and take stock of the characters, the conflicts and the courtroom tactics, and doesn't get much better than Stewart and Scott sparring with witnesses: the cagey country lawyer hiding his endgame behind a folksy manner versus the smart, sarcastic, thoroughly urban legal eagle who makes a show of his intelligence and showmanship. All that, and a score by Duke Ellington (who makes a cameo appearance) too.
Blu-ray and DVD, with plenty of supplements: new interviews with Otto Preminger biographer Foster Hirsch and music critic Gary Giddins, a featurette on graphic designer Saul Bass and his long collaborative relationship with Preminger, excerpts from a 1967 episode of "Firing Line" featuring Preminger, newsreel footage from the set, and excerpts from a work-in-progress documentary on the making of the film, plus stills, a trailer and booklet with a new essay and an archival article.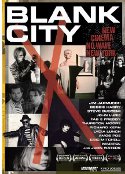 "Blank City" (Kino Lorber) surveys the "No Wave" movement of DIY films in New York City in the eighties, a culture that spawned such artists as Jim Jarmusch, Debbie Harry, Steve Buscemi, and Jean-Michel Basquiat, and was sustained by such underground creators as Lydia Lunch, Richard Kern, Amos Poe, Scott B and Beth B, Bette Gordon, and Lizzie Borden. "The real reason to see Blank City is to catch snatches of the now-decades-old films - priceless DIY numbers that capture all the wild energy, humor, and rage of, if not a more innocent time, then certainly a cooler one," recommends Philadelphia Inquirer film critic Stephen Rea. Blu-ray and DVD, both with deleted and extended scenes, outtakes, and an interview with director Céline Danhier.
Virginia McKenna stars in a pair of British war dramas of the 1950s. "A Town Like Alice" (VCI), the original screen version of Nevil Shute's novel of British women trying to survive Japanese-occupied British Malaya, co-stars Peter Finch and earned McKenna a BAFTA for Best British Actress. The disc features a short documentary on the film. "Carve Her Name with Pride" (VCI), based on the true story of a captured resistance fighter sent to German concentration camp when she refuses to betray her comrades, co-stars Paul Scofield and is directed by Lewis Gilbert. McKenna herself described it as "the role of a lifetime." Both DVD only.
Nicolas Roeg's "Track 29" (Image), written by Dennis Potter, features an early performance by young Gary Oldman, playing a shifty young man who drops in on a depressed, neglected wife (Theresa Russell) claiming to be the child she gave up for adoption as a teenager.

Plus:
"George!" (VCI) is a G-rated family comedy about a lovable, disaster prone Saint Bernard and the bachelor stuck with him. DVD.
"Don Winslow of the Coast Guard" (VCI) is a 13-part adventure serial from 1942 starring Don Terry. Two discs, DVD only.
"Broken Blade" (Sentai) is a six-part mecha-action animated adventure from Japan. Two discs, Blu-ray and DVD.
"From Straight to Bizarre" (Sexy Intellectual) is an "unsanctioned" documentary about the independent music labels created by Frank Zappa. DVD only
For more releases, see Hot Tips and Top Picks: DVDs, Blu-rays and streaming video for February 21