FEATURED POST
Plus Carol Reed's 'The Way Ahead,' seventies British horrors, 'First a Girl,' and more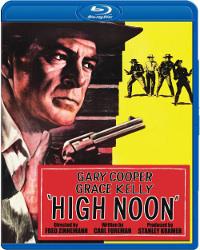 "Invasion of the Body Snatchers" (Olive), the original 1956 version of the oft-filmed science fiction horror, is still the most insidious alien invasion film ever made. Reviewed on Videodrone here.
"High Noon" (Olive), one of the best loved westerns of all time, has been called an old-fashioned celebration of courage and responsibility in the face of impossible odds, an ironic dissection of the western myth, and a blast of moral outrage at the silence and passivity of American citizens. Howard Hawks claimed this film inspired him to make "Rio Bravo," because he couldn't fathom a sheriff who went around begging for help. There's so much loaded weight attached to the film (from famously right-wing lead Gary Cooper to famously liberal screenwriter Carl Foreman, who was blacklisted by Hollywood) that it can overwhelm what is essentially a lean, dusty western classic set to the real time of a ticking clock, counting down the minutes until a gang of killers ride in looking for revenge on Sheriff Cooper.
Grace Kelly plays Cooper's Quaker bride, anxious for him to set aside all thoughts of violence on this their wedding day, and Thomas Mitchell, Lloyd Bridges, Otto Kruger, Lon Chaney, Henry Morgan, Lee Van Cleef, and Katy Jurardo co-star. Fred Zinneman directs for producer Stanley Kramer, and Tex Ritter sings the legendary theme song: "Do not forsake me, oh my darling."
It's been on DVD before but has been remastered in HD for this edition from a finegrain 35mm print for a new DVD edition and its Blu-ray debut. Features the 23-minute documentary "The Making of High Noon," a 1992 featurette narrated by Leonard Maltin, but not any of the other supplements from the previous DVD special edition.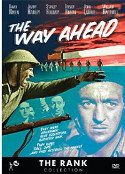 "The Way Ahead" (VCI), Carol Reed's contribution to Britain's war movie effort, is a rousing patriotic war drama about a group of disparate civilians who learn to work together as a military fighting force in North Africa under the leadership of working-class everyman turned practical officer David Niven. Peter Ustinov and Eric Ambler script (from a story by Eric Ambler) and Stanley Holloway, James Donald, John Laurie, William Hartnell (the first Doctor Who), Leo Genn, and Trevor Howard (in his feature debut) co-star. It's a class production down the line, with cinematography by Guy Green and a score William Alwyn and Muir Matheson. Originally released in the U.S. in a cut version titled "The Immortal Battalion," this is the original, uncut version of the film. Includes the archival featurette "Battle of the Desert."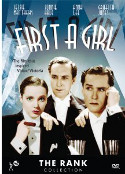 "First a Girl" (VCI), a 1935 British musical based on a German farce, was the basis for Blake Edwards' 1982 "Victor/Victoria." Sure enough, a British songbird poses as a man who is a female impersonator here, but the similarities end with Act One. It appears that the British music hall tradition turned cross-dressing into such a manly art that this comedy of sexual obfuscation carries no identity crisis or gay undertones, but it's a lighthearted lark nonetheless. It boasts a couple of bright musical numbers, ably helmed by Victor Saville and warbled by perky English ingénue Jessie Matthews (think Ruby Keeler with grace), and a comic gem in her partner Sonnie Hale. Jolly good show.
"The Blood Beast Terror" (Kino) and "Burke and Hare" (Kino) are a pair of seventies British horrors from director Vernon Sewell. 

Peter Cushing stars in "The Blood Beast Terror" (1968), playing a detective inspector following a string of murders to a crazed entomologist (Robert Flemyng) whose gruesome experiments have transformed his beautiful daughter into a vampire-beast with an insatiable lust for blood. "Burke and Hare" (1972) retells the notorious tale of the 19th century grave robbers turned killers (played here by Derren Nesbitt and Glynn Edwards) as a darkly comic thriller with bawdy interludes. Glenn Erickson reviews both films at DVD Savant. The films, released as part of Kino's arrangement with Britain's Redemption films, are mastered in HD from 35mm negatives for DVD and Blu-ray. They probably look better here than they ever did in the theater.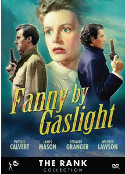 "Fanny By Gaslight" (VCI), a British costume drama with James Mason and Stewart Granger, stars Phyllis Calvert as the illegitimate daughter of a British Cabinet Minister working as a maid in her father's home. Anthony Asquith directs this 1944 film.
"Carry On Volume 7: Carry On Abroad / Carry On Dick" (VCI) and "Carry On Volume 8: Carry On Behind / Carry On England" (VCI) present six more films in the long-running series of comedies that lampooned British institutions and film genres with music hall humor, slapstick gags, and sexual innuendo.
Plus newly available through manufacture-on-deman​d labels is the French gangster film in America "The Outside Man" (MGM Limited Edition Collection) and MGM's "Crime Does Not Pay" (Warner Archive) series.  

For more releases, see Hot Tips and Top Picks: DVDs, Blu-rays and streaming video for the week of July 17