FEATURED POST
Walter White and Jesse Pinkman Work in the Lion's Den this season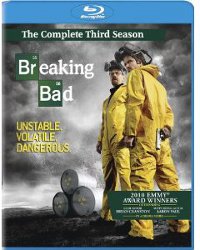 "Breaking Bad: The Complete Third Season" (Sony)
Bryan Cranston and Aaron Paul both won 2010 Emmy Awards (Cranston's third for the show) for their performances as high school chemistry teacher turned master meth cook Walter White and street-level drug dealer turned business partner Jesse Pinkman in Vince Gilligan's darkly funny and morally unsettling original cable series. This season Walter, newly separated from his wife (Anna Gunn) after she discovers his secret life, is made an offer he can't refuse: work exclusively for the local drug kingpin (Giancarlo Esposito) or find a way to protect his family and loved ones from his displeasure.
What makes the show so good -- no, what makes it so great -- is that every choice comes with fallout and all the equations in the world can't control it. When hitmen from the Mexican cartels come hunting for Walter, his brother-in-law (Dean Norris) gets caught in the crossfire. And when Walter's own hubris puts Jesse's life at risk, it gets harder to thread that needle. He's working with combustible chemicals and there's no way to avoid a reaction. The best he can do is keep it from blowing up completely. If he's lucky. Betsy Brandt, RJ Mitte, Bob Odenkirk and Jonathan Banks co-star.
13 episodes on four discs on DVD and three discs on Blu-ray, with three shown in unrated versions. There's commentary on nine episodes by members of the cast and crew, seven behind-the-scenes featurettes, deleted scenes, outtakes, mini video podcasts for every episode with the cast and crew, 20 "Inside Breaking Bad" featurettes and (just for fun) "Better Call Saul" ads and testimonials. Exclusive to the Blu-ray set is the "Breaking Bad" Family Photo Album.
The fourth season debuts on AMC in July.