FEATURED POST
The animated feature arrives on disc with bonus cartoons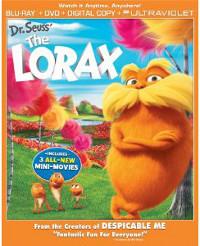 "The Lorax" (Universal) is Hollywood's latest attempt to turn the fable-like storybooks of Dr. Seuss into big, busy, full-length feature films. This tale, a simple plea to take care of the natural world we live in (or at least cohabit), was the one he identified as his personal favorite.
"Seuss, aka Theodor Geisel, wrote elegant, simple children's books, in chiming, rhyming meter, with a vocabulary made of kid-friendly words, a world of goofy, matter-of-fact wonder and plots that got in, got out and got on with it, somehow both insubstantial and yet unforgettable," MSN film critic James Rocchi reminds us. "And expanding the books so they become feature-film-length stories bloats them until they burst, like turning a haiku into a novel. At what point does adaptation become treason?"
Danny DeVito voices the Lorax of the title, who in this film speaks for the trees in the manner of a grumpy curmudgeon, and the expanded storyline adds all-new characters (voiced by Zac Efron, Taylor Swift, and Betty White) and complications.
"Screenwriters Ken Daurio and Cinco Paul (who also wrote "Horton Hears a Who!") add chases and conspiracies and romances, and singing fish and cute physical-comedy bears, but the additions simply subtract from the clarity and simplicity of Seuss' original tale…. it's all padding, a huge CGI 3-D box filled with Styrofoam packing peanuts of bits and business that completely bury the sweeter, smarter, smaller story in the original book."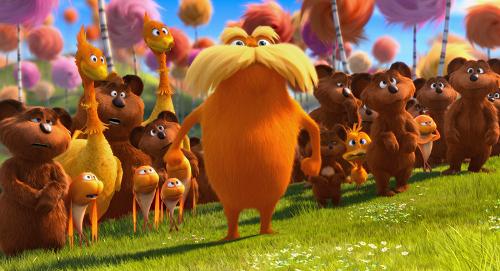 Blu-ray, Blu-ray 3D, and DVD editions, with commentary by co-directors Chris Renaud and Kyle Balda, a deleted scene, the featurettes "Seuss to Screen" (on the book-to-movie adaptation) and "Seuss It Up!" (a tutorial on how to draw the characters), and various interactive games and activities.
Exclusive to the Blu-ray editions are three animated mini-movies (which are rather grand titles for original animated shorts that run under four-minutes apiece) featuring the Bar-ba-loots and Once-lers from the film: "Serenade," "Wagon-Ho," and "Forces of Nature," plus a making-of featurette on the shorts. Also features bonus DVD, digital, and Ultraviolet copies, plus the usual BD-Live functions.
For more releases, see Hot Tips and Top Picks: DVDs, Blu-rays and streaming video for week of August 7