FEATURED POST
Plus Koji Wakamatsu's 'United Red Army' and 'Special Treatment' with Isabelle Huppert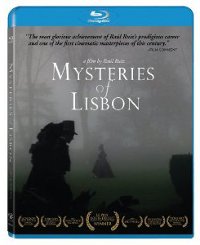 Raul Ruiz's exquisite, elegant, nearly 4 ½-hour "Mysteries of Lisbon" (Music Box) begins with an orphan boy in a Catholic boarding school searching for his identity. While his schoolmates have many names and titles, their rank becoming their identity, he is simply Joao, a boy with no background. But others have also recreated themselves, through marriage or money or status purchased with fortune and power, and the biggest mystery is the protective priest who watches over Joao. As the boy's ancestry unfolds in a magnificent tapestry of flashbacks that slowly weave a portrait out of dozens of characters and stories, so does the story of the quietly driven Father Dinis (Adriano Luz), which is inextricably tied to the boy's past.
Chilean-born Ruiz is a director whose love of storytelling and narrative play is often more engaging than the films themselves but with "Mysteries of Lisbon," an epic based on a classic Portuguese novel (one yet untranslated into English), his engagement with the characters and their defining stories guides his direction, and his graceful camerawork and unerring eye for images both classical (like paintings in a cinematic frame) and fluid (his camera moves with purpose and grace) are in the service of the trajectories of the characters. This is a film of labyrinthine storytelling and cinematic weaves of character and narrative that stretch across countries and time itself, rewinding for elaborate flashbacks that redefine everything we know and understand, and of compassionate insight into human nature and the contradictions that define us.
Ruiz died just as the film made its American debut, having completed shooting one last film before passing. I look forward to his swan song, as well as looking back through the scores of earlier films yet to be released in the U.S. Until then, I can lose myself in this magnificent production, which I chose as the best film of 2011, and the beautifully mastered Blu-ray presentation of Ruiz's elegant images.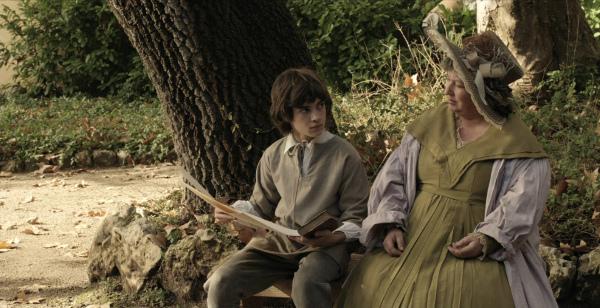 In Portuguese and French with English subtitles. Music Box releases the film on DVD and Blu-ray, both of them in three-disc presentations. This is the theatrical cut of the film, which was presented in two parts and an intermission, and each part is given its own disc. The third disc is filled with supplements: a 40-minute video interview with Ruiz from the French TV program "CinéCinéma," a five-minute video interview screenwriter Carlos Saboga, a 28-minute French radio interview with Ruiz conducted by esteemed critic Michel Ciment (with English subtitles over a still image), a roundtable discussion on the film conducted for French TV and a featurette on novelist Camilo Castelo Branco made for Portuguese television. There is also an American trailer and a 10-page booklet with an introduction by Ruiz and an essay by Jonathan Rosenbaum. Also available on VOD.
See the trailer below, after the jump.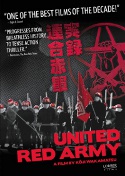 From Japan comes Koji Wakamatsu's "United Red Army" (Kino), an intense study of the extreme militant left movement in 1970s Japan and a historical drama as psychological thriller. It could be Japan's answer to "Carlos," a chronicle of how the militant United Red Army came out of the student protest movement of the 1960s and transformed into an ideologically-confus​ed, slogan-spouting revolutionary band. Most of the film takes place in the group's self-imposed exile in the mountains, where a training program becomes twisted by the megalomania of its leaders and their tyrannical cult-like domination. And just when you think you've slipped into a horror movie, Wakamatsu reminds us that, while this is a dramatization with fictionalized elements, it is based on history. The young zealots killed by their own comrades, and the would-be revolutionaries who fed into the cult of personality and enabled the abuse, were real people. Many of the survivors are still in prison. Though it runs over three hours long and is at times grueling, it is also utterly compelling and affecting. Japanese with English subtitles, no supplements. DVD only. See the trailer below.

Also from Wakamatsu is his 2010 drama "Caterpillar" (Kino), about a soldier who returns home from World War II with his arms and legs blown off and burns across half his face and the toll it takes on his wife, who becomes his sole caretaker. Japanese with English subtitles, no supplements. DVD only.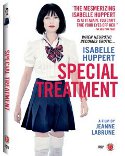 Isabelle Huppert stars in "Special Treatment" (First Run), an erotic comedy with a dark sense of humor about a high-class prostitute who specializes in serving up the sexual fantasies of her high-roller clients. Bouli Lanners co-stars as a psychoanalyst who teams up with her to explore the overlapping worlds of psychotherapy and sex therapy. "At the end, there is no great revelation, but Huppert has succeeded once again in making us wonder what's going on in there," writes film critic Roger Ebert. French with English subtitles, no supplements. DVD only.
"Romeos" (Strand) is romantic drama from Germany about a pre-op transgendered person who, in the midst of transformation from female to male, engages in the gay scene in Cologne and falls in love with a gay man. German with English subtitles.
"Cold Sweat" (Dark Sky), from Argentina, is a horror film about a pair of men who keep captive women soaked in unstable nitroglycerin: the "cold sweat" of the title that threatens to blow up with any wrong move. Spanish with English subtitles. DVD only, with commentary, a featurette and deleted/extended scenes.
For more releases, see Hot Tips and Top Picks: DVDs, Blu-rays and streaming video for January 17