FEATURED POST
Funniest show on TV? Maybe not, surely the most painfully honest.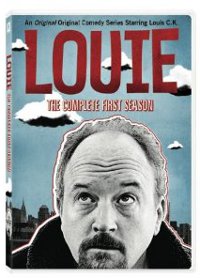 "Louie: The Complete First Season" (Fox)
New York comedian Louis C.K. designed his first (short-lived) sitcom (which he made for HBO) around the life of a thirtysomething guy with a wife and young family. Now he's a divorced father of two and his life is once again the inspiration for his amazing FX series "Louie," a sitcom by strict definition but not like any you've ever seen. Playing essentially a version of himself, he's a working comedian, a devoted (if sometimes overwhelmed and confused) dad and a fumbling forty two-year-old single man in a dating scene he doesn't feel comfortable in and shows work through these and other situations (a visit to the doctor, taking on a heckler) without the usual sitcom structure.
Like "Seinfeld," the shows are framed by his stand-up act but the resemblance ends there. Drawing from everyday events of his own life, "Louis" finds the absurdity in the mundane and pushes the envelope of offensiveness and discomfort as it explores the very concept of what is offensive and why. And sometimes Louis C.K., who also writes and directs every episode of the first season, creates sublime moments of humanity captured under the lens. "Bully" (episode 9) is like nothing else I've seen on TV, at once uncomfortable, frustrated, scared, angry, curious and, finally, open to the fact that life is complicated beyond our ability to encompass and the best that we can do is share our limited understanding with one another.
But don't get scared off by that. The show is also funny, consistently surprising and daring. It defies the conventions of sitcom structures with stories that have the shape of an extended comedy skit by way of a John Cassavetes improvisation. Except that it's funny. Check out this New York Magazine profile of Louis C.K. and his creative approach to the show:
But perhaps the most unusual aspect of the show is that Louis C.K. gets no notes from the network during filming, no script approval—an ­unheard-of "Louis C.K. deal" that has made him the envy of comics and TV writers alike. It's a situation Louis is not taking for granted.
Louie: The Complete First Season
" features all 13 half-hour episodes in a two-disc Blu-ray/DVD combo set (the Blu-ray on one side of the disc, the DVD on the other), plus commentary by Louis C.K. on 11 of the 13 episodes, a little over 30 minutes of deleted and extended scenes with introductions by Louie C.K. and a short promotional featurette. The second season begins
I meant to include a clip from the show but, so help me, I couldn't find a one that would be safe for all audiences.