FEATURED POST
The Oscar-nominated sixties social satire debuts on DVD-R
Adapted from a Tony Award-nominated 1962 Broadway production and nominated for four Academy Awards in its own right, the 1965 film of Herb Gardner's play "A Thousand Clowns" (MGM Limited Edition Collection) has not aged well.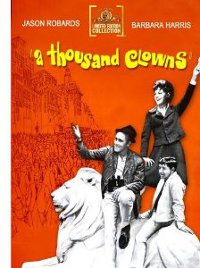 It's not a matter of the filmmaking necessarily, which is a real time capsule of what was considered hip and satirical by Madison Avenue in the mid-sixties, or the performances, which are decidedly theatrical but certainly sprightly and energetic. It's more in its theme of non-conformity and rebellion against the numbing drudge of the rat race, or more specifically, working for a living.
That's what Murray Burns (Jason Robards), a former TV writer for a kids show, really is rebelling against. All that creative compromise was killing his spirit, he says, but his response is not changing careers to a less lucrative but more fulfilling job. It's going on welfare and playing perpetual hooky while sneering at everyone who still works for a living, and for reasons that defy his grasp, he's been deemed an unfit guardian for his 11-year-old nephew (Barry Gordon), a gifted kid who naturally plays the responsible adult part in this relationship. Once upon a time it might have fun to admire Murray's irresponsibility and Robards certainly plays the part with a lot of charm and devious wit, but there's something disingenuous about presenting defiant purposelessness and unemployment as an act of courage. Sure, the film ultimately favors the side of responsibility, but it still presents such a compromise as some kind of resignation. The real courage is standing up against the pressures of conformity while facing up to the challenges of the responsibility of raising a child. If this were relocated from midtown Manhattan and the corporate mediocrity of the entertainment world to a dustbowl farm during hard times, would such a stance have the same romantic appeal?