FEATURED POST
It's a Lifetime Channel premise with an ABC Family Channel execution
By 
SeanAx
 Dec 13, 2011 11:18AM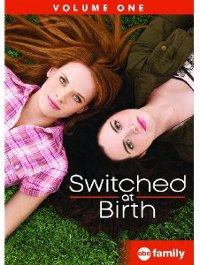 "Switched At Birth: Volume 1" (ABC) is the latest ABC Family Channel teenage melodrama with a twist, this one pretty much explained in the title: a well-to-do family with two somewhat spoiled kids and a single mom in a bad neighborhood with a smart, well-adjusted and, as it turns out, deaf teenage girl discover that the daughters they raised since birth are not their biological progeny.

Rich girl Bay Kennish (Vanessa Marano), a graffiti artist with a rebellious streak, and whipsmart Daphne Vasquez (Katie Leclerc), were accidentally mixed up by the hospital -- human error, not anything malicious -- and a high-school science experiment reveals a genetic anomaly that brings the whole thing to light. And that's in the first five minutes.
The real drama begins when the Kennish parents -- Kansas City society mom Lea Thompson and major-league player turned car wash mogul D.W. Moffett -- invite the mother (Constance Marie) of their biological daughter to move into the guest house so they can all get to know one another. It's a collision of class, culture and child-rearing philosophies.

That one of the teenage girls is deaf opens up the show to a culture rarely seen on TV, and never in this detail. Amidst the boyfriend troubles, the moral lessons, the parenting crises and the personality clashes, we see more conversations in American Sign Language in these ten episodes than you'll find on every other show combined this year. One of the pleasures of the show is watching the Kennish family, first Bay and then the parents, learn to sign and become increasingly fluent through the episodes.
Admittedly, it has its share of manufactured crisis (just why is the dad so insistent on suing the hospital?) and genuine issues solved far too easily (a gambling problem, a theft from the school) and with few consequences. But I have a fondness for the ABC Family Channel brand of young adult family drama and this is one of the better ones.